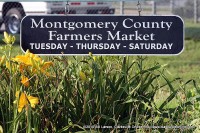 Its that time of the year again, The Montgomery County Farmers Market is once again open for business Tuesday at the L&N Train Station (10th & Commerce St). The market runs from June through October, opens at 6:30am and runs until 2:00pm. To ensure the best selection possible, you should plan to arrive early in the day.  The market brings some of the freshest local produce and baked goods direct from the farm to you.
Having arrived too late to find much available for the opening on Tuesday, we returned bright and early on Thursday. At 6:30am vendors were already setup and customers browsing their wares.
The selection is incredible, if it's in season you can find it at the Farmers Market  fresh Green Beans, Tomatoes, Cucumbers, Cabbages, Squash, ears of Corn,  Onions,  Turnip Greens, Herbs, Apples, Blueberries, Blackberries, Peaches, and much more. Other vendors were selling pre-made items including baked goods, and BBQ sauce, Popcorn, and Ice Cold drinks.
The Prices for the items on hand were very reasonable. One tip to eating well while on a budget is stay away from buying pre-packaged/pre-processed foods. Cooking it yourself not only healthier, but the prices are cheaper, and you can also fine tune the flavors and textures to convert an every day meal into an experience.
Market Manager Naomi Williams  said, "We sell what we grow ourselves or buy from producers in Montgomery County.  Offering locally grown farm products seems to work well for our market, and our customers really like the selection that is available to them, because most days our vendors sell out of their fruits and vegetables."
According to the vendors their biggest day at the market is on Saturday. Some people may feel this conflicts with the City of Clarksville's Downtown Market's schedule,  and there's nothing saying that on Saturday you can't pay a visit to both!
To become a vendor at the Montgomery County Farmers Market, you must be a Montgomery County Resident, and items sold must be homegrown produce or baked goods. If you meet these criteria, contact Naomi Williams at 931-552-8867.