Officials urge Tennesseans to help families, friends, neighbors file for assistance now


Nashville, TN – Brenda Duck, an AARP member who lives in a Nashville neighborhood devastated by last month's floods, says she wouldn't be able to repair her home without federal assistance – including a low-interest loan from the Small Business Administration.
Duck joined U.S. Rep. Jim Cooper, Nashville Mayor Karl Dean, SBA public affairs specialist D. Jelani Miller and AARP Tennessee Advocacy Director Patrick Willard in urging Tennesseans to file for flood assistance during a news conference at the Bellevue FiftyForward Center.
Willard said AARP organized the press conference to draw the attention of as many people as possible to the importance of getting the SBA form completed. "We want to make sure that family members, neighbors, co-workers, fellow church-goers, the mayor, the congressman—everyone gets this word out to affected homeowners so we can make sure we can recover as quickly as possible," he said.
Duck recalled the impact of the flood when four feet of water surged into her home in the River Plantation neighborhood, knocking out windows and swirling her furniture around. Her car was underwater, so she had to wade through the rising flood water with only a purse and an overnight bag to get to safety.
She thought she would have a little cleanup but returned to find nearly everything destroyed. Duck immediately called the Federal Emergency Management Agency and filled out all the paperwork that she received, including an application from the Small Business Administration.
"I know it looks like a lot, but it really doesn't take that long to fill out, and you can get help if you need it," Mrs. Duck said. It only took her about 45 minutes to fill out all the paperwork, which was processed within about three and a half weeks. She should be back in her home in a few weeks.
Too many Tennessee seniors – and others with damage from last month's disastrous floods – don't understand the process. One major problem is they don't realize that if they receive a disaster loan application from the Small Business Administration they must fill it out – even if they're not business owners and don't want a low-interest loan – to get additional flood recovery assistance.
Fortunately, the deadline to file applications with FEMA and the SBA has been extended by a month to August 5th.
But the congressman, the mayor and AARP all urge Tennesseans to file now.
"Don't wait," Dean said. "Putting things off to the last minute is easy to do, but 30 days will go by quickly and we don't want anyone to miss out on the resources that are available."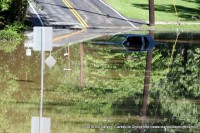 The mayor said some 22,000 Nashvillians have applied for assistance from FEMA, but only 2,400 have applied for an SBA loan. He said future aid from the city will require a completed SBA form.
Cooper said it would be a "tragedy" if folks don't get the help they need to rebuild their lives.
Miller said people need to understand that the SBA functions as a long-term disaster recovery agency for the federal government and works with homeowners as well as business owners.
Even if you had insurance, you can get federal assistance with temporary housing, home repair and replacement, medical, dental, funeral, transportation, moving and storage and other authorized expenses. You can also get help from the community and charities if you have paperwork providing that you filed for federal assistance.
Tennesseans can apply online anytime at www.DisasterAssistance.gov or call the FEMA helpline at 800-621-3362 (FEMA) or (TTY) 800-462-7585 for those with speech and hearing disabilities. They also can ask questions and apply for assistance at disaster recovery centers in the affected counties.
In Tennessee, 63,633 people have registered for individual assistance from FEMA, which has approved more than $141 million in aid in 46 counties. The SBA has approved nearly $89 million in low-interest disaster loans to homeowners, renters, businesses and nonprofit organizations.
For more about AARP Tennessee and other flood recovery information, please visit www.aarp.org/tn, www.facebook.com/aarptennessee or www.twitter.com/aarptn.
About the AARP
AARP is a nonprofit, nonpartisan membership organization that helps people 50+ have independence, choice and control in ways that are beneficial and affordable to them and society as a whole.  AARP does not endorse candidates for public office or make contributions to either political campaigns or candidates.  We produce AARP The Magazine, the definitive voice for 50+ Americans and the world's largest-circulation magazine with over 35.5 million readers; AARP Bulletin, the go-to news source for AARP's nearly 40 million members and Americans 50+; AARP Segunda Juventud, the only bilingual U.S. publication dedicated exclusively to the 50+ Hispanic community; and our website, AARP.org.  AARP Foundation is an affiliated charity that provides security, protection, and empowerment to older persons in need with support from thousands of volunteers, donors, and sponsors.  We have staffed offices in all 50 states, the District of Columbia, Puerto Rico, and the U.S. Virgin Islands.