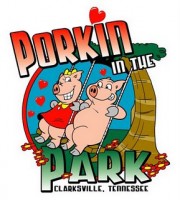 The Kiwanis Club of Clarksville presents the 3nd annual Porkin' in the Park. The event will be held down on Strawberry Alley July 9th and 10th. There will be food, drinks, live music and so much more. And let's not forget the Barbeque. Admission is FREE to the public for both days.
Porkin' in the Park is a Kansas City Barbeque Society sanctioned state championship barbeque cook-off hosted by Kiwanis Club of Clarksville. BBQ teams from around the region will be there competing for a Grand Champion prize of $1000. Prizes are also awarded to the top ten entries in each category – Chicken, Pork Ribs, Pork and Brisket.
Everything will get started Friday, July 9th at 5:00pm and last until 11:00pm. The Les Kerr and the Bayou Band will start playing at 8:00pm.
Get up early and come on down, Saturday, July 10th as things get on their way at 8:00am and continue into the night until 11:00pm. The Beagles will come on stage around 8:00pm. The City of Clarksville's Downtown Market will also be going on Saturday from 8:00am – 4:00pm. There will be over 40 vendors selling homegrown produce and homemade goods.
The Kids Zone will be on the F&M Bank Parking deck, with inflatables and activities for children.
Smokin Rednecks will be selling all kinds of award winning BBQ both days. Beer by Budwesier.
For more information, please visit: www.clarksvillekiwanisbarbecue.com