Hearth, Patio & Barbecue Association Offers Tips to Get Grilling for All-American Independence Day Celebration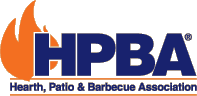 Arlington, VA — Fired up for the Fourth; Americans agree Independence Day is the number one holiday for barbecues and outdoor cooking. In fact, 80 percent of adults say they plan to host or attend a cookout this Fourth of July, according to results from a new 2010 Hearth, Patio & Barbecue Association (HPBA) national grilling poll.
"The backyard cookout is an all-American pastime and a time-honored tradition that brings family and friends together in patriotic celebration," said Leslie Wheeler, HPBA Communications Director. "The majority of Americans turn to outdoor cooking on the Fourth of July and throughout the warmer months because it provides a fun, easy and affordable way to create delicious meals while spending time together outdoors."
And to please patriotic palates this July, according to HPBA's consumer poll and industry survey findings, the most popular foods for grilling are, in order: burgers (85 percent), steak (80 percent), hot dogs (79 percent), and chicken (73 percent) – followed by sausage/bratwurst (55 percent) and ribs (53 percent). As for top toppings, 66 percent of Americans report that they reach for the ketchup while 62 percent say they add on mustard.
HPBA offers these tips to get grill-ready for Fourth of July (for more outdoor cooking tips and recipes, visit www.hpba.org):
Preparation for the fire-works
Evaluate your grill and consider replacing it if you have rusted or wobbly legs, or if the manufacturer's safety guidelines are not being met.
For gas grills, visually inspect hoses for abrasion, wear, and leaks before each use. Use a soap and water solution to test for leaks. Never use a flame to check for gas leaks. Replace faulty hoses before use.
For charcoal grills, never use gasoline, kerosene or highly volatile fluids as a starter. Use an electric, solid, metal chimney or other starter specifically made for lighting charcoal briquettes or wood chunks.
Electric grills should be connected to ground fault interrupter (GFI) outlet in accordance with local codes.
Feel the heat: to tell the temperature of a charcoal fire, carefully hold your hand, palm side down, just above the cooking grid. If you can keep it there for five seconds, the heat is low, four seconds, the heat is medium. Three is medium-hot. Two or one is hot.
Make sure you have enough propane, cooking wood, and/or charcoal for
the cookout, so the fireworks don't fizzle out early.
Before you celebrate the red, white and blue:
Do thaw frozen food and marinate foods in the refrigerator and never on the counter.
Do sanitize cutting boards and counter tops with chlorine bleach.
Do marinate meats at least 30 minutes in the refrigerator before cooking to add flavor and coat the meat.
Do position your grill, fryer or smoker in an open area away from buildings and high traffic areas.
Do use a meat thermometer or an "instant read" digital thermometer inserted horizontally into the side of meat, poultry and seafood to check doneness.
Freedom!…from heavy clean-up
Before lighting the grill, apply non-stick spray on the grates. The protective spray cuts down the clean-up time afterwards.
For charcoal grills, line the bowl with aluminum foil. After grilling, and once the grill and coals are cool, simply discard the foil with the coals and ash, then wash and reline with foil for next time.
Squirt grease-cutting dishwashing detergent on grill and grates (once cool). Scrub with brush or abrasive pad, then rinse. Repeat as necessary.
For more outdoor cooking tips and tidbits, as well as recipes, visit www.hpba.org.