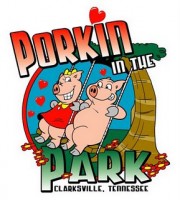 Les Kerr & The Bayou Band are scheduled to perform at Porkin' in the Park sponsored by Downtown Kiwanis Club Friday, July 9th, 2010, at 8:00pm.  There is no admission fee for the concert. The weekend-long festival is a Kansas City Barbecue Society (KCBS) sanctioned event that will feature music, a kid's zone and food.
Originally from the Gulf Coast, Kerr refers to his eclectic musical style as "Hillbilly Blues Caribbean Rock & Roll" because of the variety found in his music.  The upbeat style is a mix of blues, bluegrass, New Orleans and Gulf Coast influences.  He has recorded six CDs, including his current album, New Orleans Set.
Kerr and his band are no strangers to Clarksville area audiences.  From 1989 through 1995, he performed frequently at Fort Campbell's Officers Club and from 1994-2005 at Beachaven Winery's Jazz on the Lawn series.  The group's most recent Clarksville appearance was August, 2009 at the Waterstreet Events Center for a Clarksville Young Professionals event.
Several barbecue festivals have been on the band's itinerary over the last few years, including the Wild Turkey Bourbon Tennessee State Championship Cookoff in Lawrenceburg, TN and the Bellevue Backyard Barbecue Competition in Nashville.  The singer/songwriter has also included references to barbecue in his recordings.
"I've heard that you should write and sing what you know about so there are lots of food and restaurant references in my music," Kerr said. "Christmas by the Barbecue is in my Christmas CD and there's a barbecue reference in Mackinac Blues, from New Orleans Set."
Mackinac Blues was included in NPR's All Songs Considered and Kerr's original Pool People was included in Endless Summer, a 2010 compilation album created by the Americana music publication The Alternate Root. 
Kerr was also commissioned to write theme songs for the Cookeville, TN Chamber of Commerce "Highlands of Tennessee" $2 million economic initiative and the University of Mississippi's $200 million "MomentUM" fund-raising campaign. 
An active journalist, Kerr co-authored The All-American Truck Stop Cookbook and Tennessee.  Two of his lyrics were included in Maple Leaf Rag IV, a 2009 New Orleans poetry anthology.
More information about Les Kerr is available online at www.leskerr.com. 
Information about the festival can be found at www.clarksvillekiwanisbarbecue.com.