Nashville Homers In Eighth Consecutive Game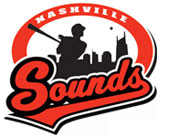 Nashville, TN — The Nashville Sounds lost to the New Orleans Zephyrs, 4-3, in front of 6,373 fans on Friday night at historic Greer Stadium in the second game of a three-game series.
New Orleans scored the winning run in the top of the ninth inning to go-ahead, 4-3. With one out in the inning, reliever Chris Smith fanned Gookie Dawkins, but a wild pitch allowed Dawkins to reach first. After next batter Logan Morrison walked, Katin dropped a fly ball, but threw in time to second for the second out. Danny Richar then followed with a line drive double to left field that allowed Dawkins to score the go-ahead run.
In his 2010 Sounds season-debut, centerfielder Lorenzo Cain went 2-for-5 with a double. Mat Gamel and Brendan Katin each hit solo home runs for Nashville (44-37), as it was the eighth consecutive game that the club has hit a home run this season.
Sounds starter Chuck Lofgren got into trouble to begin the game, walking the first two New Orleans hitters on a combined 14 pitches. After Logan Morrison flew out for the first out of the frame, Lofgren got Hector Luna to fly out to shallow left field to Norris Hopper, who then doubled up Dawkins at first base for an inning-ending double play.
Donnie Murphy hit his 12th home run of the season in the top of the second inning to put New Orleans on the board, a solo shot to centerfield for a 1-0 Zephyrs lead.
Katin crushed a solo home run over the out-of-town scoreboard in left field to tie the game 1-1 in the bottom of the fourth inning, his team-leading 11th homer of the season. The Sounds tacked on another run to go up 2-1 thanks to an RBI Double by Ray Olmedo later in the inning.
With runners on second on third with two outs in top of the sixth inning, Tim Dillard came in to relieve Lofgren and got Brett Carroll to groundout and end the jam.
New Orleans tied the contest at 2-2 in the top of the seventh inning. Scott Cousins doubled to left field to begin the inning and scored on a two-out RBI single to left field by Bryan Petersen. The Zephyrs took a 3-2 lead in the top of the eighth inning, beginning with Carroll recording a two-out single to reach base. Catcher Neil Wilson then doubled down the third base line to score Carroll and put New Orleans ahead.
In the next frame, Gamel belted a deep, game-tying homer to right center off Adalberto Mendez, his third long ball on the year and first since June 16th.
Lofgren took a no-decision, allowing one run on four hits and four walks with two strikeouts in 5 2/3 innings.
Dillard added 1 1/3 innings, giving up one run on two hits in relief. For the first time in his last five outings, David Johnson allowed one run on two hits and a walk in one inning pitched. Smith (2-3) took the loss, allowing one run on one hit with two strikeouts in one inning pitched.
New Orleans starter Sean West surrendered two runs on five hits with a season-high seven strikeouts in six innings thrown. Mendez (3-1) backed into the win, with Armando Benitez picking up his second save of the season.
The Sounds and Zephyrs will play the 6:35pm CT finale of a three-game series on Saturday evening at historic Greer Stadium. Left-hander Chase Wright (6-3, 4.01) takes the mound for Nashville against New Orleans righty Tom Mastny (1-0, 1.71). A spectacular Independence Day Fireworks Extravaganza will follow the action on the field.