By Brad Kirtley – APSU Sports Information Director
Second-team ESPN The Magazine Academic All-America.


"No one would believe that back home," said 2nd Lt. Shamai Larsen, who recently earned the award after being a two-year member of Austin Peay State University's cross country and track teams.
Why would people in Dillingham, Alaska be surprised?
Larsen was a high school dropout.
"The town I grew up in was small, 2,500 people," said Larsen, who graduated from Austin Peay and was commissioned by the Army in May. "There are really no roads in and out-you have to fly. There were 140 students in my high school and I was in a class of about 25. It was really a tough way to grow up.  You really don't get to experience the outside world.  It also was dark a lot during the winter time."
And Larsen was even in a darker place. An intelligent young lady, Larsen struggled with her school work-she aimlessly existed. She was suffocated by her "No Way Out" existence. She survived in a culture that saw many people her age consumed by drinking and drug usage.
"I struggled a lot with some depression," Larsen admittedly said. "I just didn't have any confidence in my abilities to go to college or do anything, to be honest. I didn't know how I was going to get to where I wanted to be."
But one day, a few visitors arrived at Dillingham High School. Her world was about to change. 
"When I was a junior, some Army recruiters came to our school to administer the ASVAB (Armed Services Vocational Aptitude Battery)," Larsen said, "and that is the first time I had ever seen anyone in military uniform before. I thought it was pretty neat. I didn't know anyone who had been in the military It just was not part of my world up there.
"I wasn't doing well in school but I did well on the ASVAB and recruiters started giving me a call. I thought it would be a pretty good option for me to join the Army out of high school."
In a sense, Larsen ran away-she found her way out. She dropped out of high school in Fall 2002 and ended up in Anchorage, Alaska.
"l finished my diploma through a correspondence program  through the University of Alaska-Anchorage," Larsen said.  "Once I got that diploma, I could join the Army. I looked at it as a fresh start.
"I used that experience to put myself where I wanted to be in life and I realized I could be whoever I wanted to be when I joined the Army because they would not know anything about me from before. I put my mind to becoming the best I could be at everything I tried."
"Be all You Can Be" was the Army's slogan for nearly 20 years into the early 2000s. However, it was those thoughts, those words that served as Larsen's inspiration to move her into the next phase of her life. The Army literally became Larsen's lifeblood. She entered as an E1 Private, first being stationed in Germany, and rose to Staff Sergeant.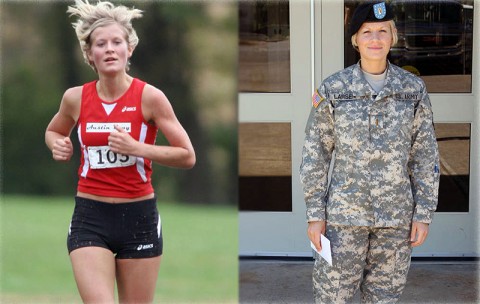 The seeds of self doubt were replaced by petals of confidence. While stationed in Germany, Larsen literally got to experience parts of Europe–yes, the the young lady who seemingly was trapped by her surroundings while growing up was now seeing parts of the world. She also began taking college courses in 2004. "Each time I succeeded I gained more confidence," she said.
Four semesters of classes allowed Larsen to be eligible for the Army's Green-to-Gold Program, meaning she could enter a college from an active-duty military-enlisted career to earn the college diploma she would need to become an Army officer. After Germany, she was next stationed at Ft. Campbell and began attending Austin Peay and remained on active duty while being part of the ROTC program. 
"I never really thought I would ever get a chance to experience a normal college life, but I did," Larsen said.
And part of that normal life came as a Division I student-athlete-a member of the cross country and track teams. It occurred simply by happenstance.
Larsen played volleyball in high school but never pictured becoming a college athlete. However, early in 2008 Larsen decided to challenge herself to run in Nashville's Country Music Marathon. She trained for a 1½ months and competed in it. After that she just continued to run as a hobby.
In August that year, she competed in a local 5k run when then-APSU assistant track and field/cross country coach Adrian Wheatley spotted her.
"I did pretty well in the run," she said, "and Coach Wheatley found out I was going to Austin Peay and asked me, 'hey, you want to come to practice tomorrow' and that is pretty much how it all happened. "
Larsen ran cross country and track (distance events) in her two Austin Peay years.  "I am really not that good of an athlete, I just like to run," she said. This past season she competed in five cross-country meets, with one Top 40 finish. In the spring, she ran the distance events, gaining a second-place finish in the 5,000-meter run at APSU's Spring Fling. 
"The ROTC program was really understanding," Larsen said. "That, along with my academics, was my main priority. They were understanding in allowing me to miss certain (ROTC) events so I could be part of the track and cross country teams.
"That was a real good experience for me because it gave me an avenue to really push myself physically and mentally. I believe that built me as person and as a leader. It also gave me the opportunity to associate myself with a different population of the campus community and get to know those kids as well. "
The athletic experience certainly benefited both APSU athletics and Larsen, who not only continued to evolve and mature as a student-athlete and soldier, but as a person as well. In fact, being a few years older than many of her fellow athletes, she often found herself serving in a big-sister role.
But her excellence as an ROTC Cadet caught the attention of her military superiors.
Last October, Larsen was presented by Co. Mark Mitchell, Commander of the Fifth Special Forces Group, the Legion of Valor Bronze Cross of Achievement, awarded to only eight Cadets nationwide out of 4,700 in the class of 2010. It is awarded for overall excellence in Army ROTC, spanning academics, ROTC performance and extra-curricular activities. She was the first APSU Cadet to receive such distinction. 
That was the most prestigious award-but not the only award-Larsen received during the past year. 
Last summer, Larsen received the RECONDO Award , an honor presented after she completed a 30-day Warrior Forge course that is based on a Cadet scoring 90 percent or better in the Army Physical Fitness Test (APFT) and land navigation (written, day and night) while being rated satisfactory or excellent in his/her six evaluated leadership positions. 
This past April Larsen was showered with even more recognition. She was presented the Pallas Athene Award, annually presented to the top two female senior Army ROTC Cadets (one east of the Mississippi, one west) for overall excellence (academic, military, athletic, extracurricular) as an Army ROTC Cadet and college student.
She also was presented the APSU Megenthall Award, annually bestowed to a graduating APSU senior for outstanding performance as an APSU student as well while bringing recognition to the University through his or her achievements and service. 
Larsen also earned the George C. Marshall Award, presented to the top senior at each university/college with Army ROTC–recognizing overall outstanding performance in Army ROTC (academics, Warrior Forge, ROTC extracurricular activities). 
Larsen also received a few Austin Peay athletic awards during the spring-she was named a co-recipient of the Perkins Freeman Governors Club Academic Achievement for owning the highest grade-point average (4.0) of graduating senior athletes along with being co-recipient of the Female Scholar-Athlete Award for possessing the highest GPA among APSU female athletes.
"It was just me making a decision to do my absolute best at everything in front of me," she said. "I don't think I have any special skills or talent. It was my effort level, it was me caring about what I do-I care about the Army, care about school and care about athletics-that drove me. Anything that is worth putting my time into is worth doing right.
"I never sat out to accomplish all of that. It comes from hard work paying off and I appreciate it (the recognition), but also sometimes people get a certain view of you as being a perfectionist, that you are super competitive. That really is not what that is-it really is me being competitive with myself.  I just like to do my best."
Larsen graduated Summa Cum Laude from Austin Peay and was commissioned as Second Lieutenant as a medical corps service officer. She shortly will be leaving to begin her officer training course at Ft. Sam Houston, Texas.  After that, she will be station at Ft. Lewis, Wash.
She plans to continue her education. As part of her George C. Marshall Award, she recently traveled to Washington, D.C. to speak to the nation's top Junior ROTC Cadets, sharing her own life experiences and struggles. She doesn't know exactly where her career path will take here in the future.
"I want to be able take some of the experiences I have had and transfer them off to some of the soldiers," she said. "I will be able to touch and, hopefully, help people with my life experiences. Whether I remain in the military or not, I think I can help people with the experiences I have had."
A once-troubled teenager who battled to survive, Larsen is no longer running from the darkness. While running was part of her rise to success, it will be her effort and determination that carry her into the next phase of her life. And anyone that knows her now won't be surprised of the successes she achieves in the future.