On June 8th, Sen. Blanche Lincoln, D-Ark., claimed victory in the Democratic primary runoff election in Little Rock, AR.
It was a race in which unions particularly have spent millions of dollars against Lincoln in a failed attempt to keep her and other incumbents from another victory.
The reason? It could be something as simple as perseverance.  
"She has been counted out so many times," said Courtney Cooper, a legislative fellow for Lincoln and an Austin Peay State University alumna. "What's so unique to me about her is that this woman can maintain a 25-member staff, a congressional office, a re-election campaign and a family. She's keeping it all together."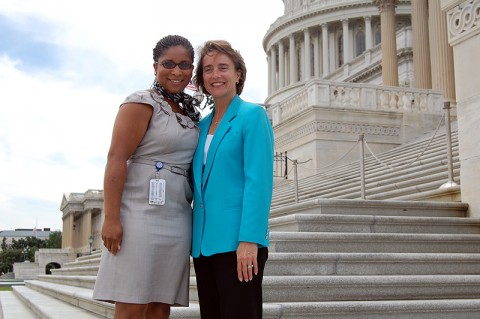 Cooper works as a full-time civil service employee for the Social Security Administration at the agency's headquarters in Baltimore, MD, a move she made after receiving her master's in communication from APSU in 2004. Last year, she received an American Political Science Association (APSA) Congressional Fellowship to work in Washington, DC, at the nation's Capitol. She began her fellowship in January.
Founded in 1953, the APSA Congressional Fellowship Program is the nation's oldest and most prestigious congressional fellowship, according to the APSA website. More than 50 years later, the program remains devoted to its original objective of expanding knowledge and awareness of Congress.
For nine months, select political scientists, journalists, doctors, federal executives and international scholars gain hands-on understanding of the legislative process by serving on congressional staffs.
Cooper, one of 40 fellows in the 2010 class, said she selected Lincoln "because she is strong willed."
"I admire her work," she said. "I wanted to work with a senator who was strongly connected to the people."
At times, working as a congressional fellow while maintaining her full-time federal job became a test of balance for Cooper, who spoke enthusiastically about her experience on the Hill.
"I was teetering the balance, learning what I could and couldn't do," she said. "There's not a manual on how to be a Senate staffer, and although we had a good six weeks of orientation in the fellowship program, I was the new kid on the block and had to get in there and learn."
The rewards of the fellowship, however, far outweigh the demands.
" I attended the State of the Union address, and that was a lifetime dream come true," Cooper said. "You see things you can't see on TV. You can smell the divide of the aisle in that room."
She also had the opportunity to meet with Supreme Court Justice Sonya Sotomayor, members of the Canadian Parliament and the U.S. ambassador to Canada during a recent visit to Ottawa, Ontario. 
Cooper's fellowship will end in mid-August. She said she is hoping to pursue committee work for the Social Security Administration upon her return to Baltimore.
"I plan to go back to the SSA and work on the congressional relations staff," she said. "It has been a fun-filled fellowship for me, but it's also one that has helped me to see what I want to do."