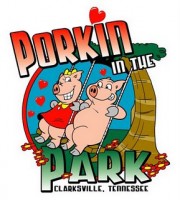 The 3rd annual Porkin in the Park is Friday and Saturday, July 9th and 10th at Strawberry alley. Downtown Clarksville will be filled with the smell of slow hickory smoked barbeque and the sounds of live music. Clarksville Kiwanis Club is hosting its third annual Kansas City Barbeque Society's Porkin in the Park State Championship Contest presented by Bud Light. Teams from all over the eastern United States will be competing for $6,500 in prize money in five categories, chicken, pulled pork bbq, brisket, ribs, and dessert. Don't worry; there will be plenty of championship barbeque for sale so come hungry.
The event is free and open to the public. In addition to the food, there's live music both nights beginning at 6:00pm. Mike Robinson will kick things off Friday followed by Les Kerr and the Bayou Band. Saturday night Southern Comfort will open for The Beagles. There's a kid's zone both days for the little ones with inflatables.

Two faculty and staff members at Austin Peay State University demonstrated recent professional and scholarly service.
Dr. Tristan Denley, provost and vice president of academic affairs, presented a talk, titled "Sudoku: More than just a game," at the Combinatorial Theory Seminar held June 4th at the University of Oxford Mathematical Institute in England.
Dr. Korre Foster, assistant professor of music, presented his research, titled "Marc-Antoine Charpentier's 'Messe pour Monsieur Mauroy,'" held July 1st-4th at the 14th Biennial International Conference on Baroque Music being held at Queen's University in Belfast, Northern Ireland.


Join Clarksville Parks and Recreation this Saturday, July 10th, at Heritage Park Soccer fields for this month's Movies in the Park event, featuring the hit movie- Star Trek (2009) which is rated PG-13. «Read the rest of this article»
Limited Edition Cans Available Through September
Plano, TX — Dr Pepper, the oldest major soft drink in America, continues its 125th Anniversary celebration with the release of Dr Pepper made with real sugar in six collectible cans, inspired by the beloved brand's rich history.
Consumers can enjoy the 23 flavors of Dr Pepper in this new packaging beginning in early July through early September. «Read the rest of this article»
For 38 years, Dr. Harold S. Pryor served Tennessee higher education in some capacity – from professor to administrator to volunteer.
Pryor has been retired for some time, but he continues his support of education, in general, and of Austin Peay, specifically. Pryor, of Columbia, recently established a gift annuity to APSU, demonstrating his love of education and student success.
"I have fond memories of APSU," he said. "I wanted to do something for the University."
Pryor said giving back – whether through monetary donations or philanthropic services – to one's alma mater provides the building block for generations to come.  
"We have an obligation, in one way or another, to help higher education and the students," he said. "It's an important thing to do." «Read the rest of this article»
Beat the Back-to-School Rush, Get Children Current on Vaccinations
 


Nashville, TN — Parents of children enrolling in child care, pre-school, Kindergarten and 7th grade should make plans now to be sure their children are up to date with their immunizations, if they have not already. Pediatric practices and county health department clinics expect to be busy all summer providing the vaccines and certificates necessary to meet the new immunization requirements that went into effect on July 1st.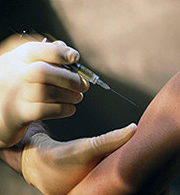 New requirements have been adopted to better protect children from serious diseases, especially those that can spread easily in a school or pre-school setting. In addition to the new 2010 requirements for those attending child care, pre-school and school, changes for new Tennessee college students go into effect in 2011. The state has also introduced a new official Tennessee Certificate of Immunization required for children starting pre-school, Kindergarten and seventh grade this fall. Children already enrolled in other grades do not need a new certificate. «Read the rest of this article»
Knoxville, TN — With above-normal temperatures expected throughout the summer across the Southeast, the Tennessee Valley Authority is encouraging consumers to use electricity wisely.
"While we understand air-conditioning is a necessity, increasing your thermostat a few degrees can still keep you comfortable while saving you a few dollars each month," said Robert Balzar, vice president of Energy Efficiency and Demand Response. "Also, turning off unnecessary lights and appliances will help considerably in reducing peak energy demand across the region."
Other energy-saving tips include using the "sleep mode" on computers, keeping curtains closed during the day, and operating dishwashers and laundry machines only with full loads and only after 8:00pm.
Residential electricity use in the TVA region ranks among the highest in the nation, according to the U.S. Energy Information Administration. In 2008, Tennesseans ranked No. 1, consuming an average 1,302 kilowatt-hours a month, compared with a national average of 920 kilowatt-hours. «Read the rest of this article»


Derrick Dunbar, an Austin Peay State University baseball alumnus, will rejoin the program as an assistant coach, head coach Gary McClure announced, Wednesday.
Dunbar joins the Governors after two seasons as assistant coach at Memphis where he instructed the infielders and assisted with hitting instruction. He also was instrumental in overseeing the program's summer and winter camps, summer high school tournaments and fall instructional league.
Prior to joining Memphis, Dunbar was an assistant coach at Jackson State Community College under head coach Steve Corneilson, also an APSU baseball alumnus. While there he was the Generals recruiting coordinator, hitting coach and infield coach.
"I am very excited to have Derrick back as an assistant coach here at Austin Peay," said McClure. "Derrick will be a great fit for our program. First and foremost he wants to be here and he loves to coach. Derrick played for me and started his college coaching career as an assistant here. Since then he has coached the last five or six years at Jackson State and then Memphis where he has prepared himself for this opportunity." «Read the rest of this article»
Clarksville, TN  – Good News – The Home Buyer Tax Credit Closing Deadline has been Extended !
It was announced that Congress passed the extension to the Home Buyer Tax Credit that was set to end June 30th, 2010. This Home  Buyer Tax Credit extension applies only to transactions that have ratified contracts in place as of April 30th, 2010 that have not yet closed.  
The new deadline is now September 30th, 2010 .  It is said that there will not be any gap between today and the time President Obama signs the bill into law.


The City of Clarksville Parks and Recreation Department invites you to sleep under the stars at Billy Dunlop Park. Join us for a family camp out beginning Saturday, July 24th at 2:00pm until Sunday, July 25th at 9:00am. Activities will include a bonfire, archery, games, ghost stories and much more!
The Family Campout is $10.00 per person and will include an afternoon and evening of games as well as a hot dog dinner and breakfast. Families will need to provide their own tent and sleeping materials. Children must be accompanied by an adult at all times. Don't miss out on your chance to sleep under the stars, pre-register by July 16th, 2010 at the Parks & Recreation Main office located at 102 Public Square or any of our three community centers.
For more details on the Family Campout, please contact the Clarksville Parks and Recreation at 931-645-7476 or visit www.cityofclarksville.com.