Market Commentary by Scott J. Brown, Ph.D., Chief Economist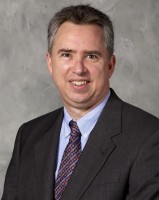 There were a lot of economic reports this week and most of them were disappointing. Consumer confidence fell in June, with sharp declines in regions affected by the Gulf oil spill. The June Institute for Supply Management (ISM) survey suggested a moderation in the pace of manufacturing growth (still positive). Unit motor vehicle sales slowed somewhat in June. Pending home sales plunged in May, following the expiration of the homebuyers' tax credit.
Weekly jobless claims were higher than anticipated. The June Employment Report was a mixed bag. Nonfarm payrolls fell by 125,000, reflecting a 225,000 decline in temporary census workers, in line with expectations. However, private-sector payrolls rose a disappointing 83,000 – softer than expected, but not a disaster. The unemployment rate dropped to 9.5% (from 9.7% in May and vs. expectations of 9.8%), but the decline was due largely to a decrease in labor force participation. The employment-population ratio fell to 58.5% compared to 58.7% in May and 59.4% a year ago. Average weekly hours edged down, and average hourly earnings slipped 0.1% – both disappointing.
Financial market participants were obsessed with the softer economic outlook and concerns that the economy may be heading toward a double dip. There's nothing in the recent data that suggests a contraction is imminent or even likely in the new few quarters. Near-term economic growth is merely expected to be somewhat slower than it was a few months ago. Nevertheless, the economy still faces a number of headwinds and the risks to the growth outlook are tilted to the downside. Much of this is already reflected in the stock market and the sharp drop in yields on Treasury securities over the last month or two. However, the economic uncertainty about tax policy and what lies ahead for the economy in 2011 is unlikely to be cleared up anytime soon.
Next week, the economic calendar is sparse, but worries about the growth outlook are likely to continue. The ISM Non-Manufacturing Index has some market-moving potential. The National Federation of Independent Business' Small Business Optimism Index gets little attention from the markets, but small business plays an important part in economic recoveries. The index improved in March and April, but remained well below pre-recession levels – tight credit and poor expectations have led to little expansion over the last several months. The following week will be much more eventful.
Indices
| | | | |
| --- | --- | --- | --- |
|   | Last | Last Week | YTD return % |
| DJIA | 9732.53 | 10152.8 | -6.67% |
| NASDAQ | 2101.36 | 2217.42 | -7.39% |
| S&P 500 | 1027.37 | 1073.69 | -7.87% |
| MSCI EAFE | 1337.85 | 1395.48 | -15.37% |
| Russell 2000 | 604.76 | 633.17 | -3.30% |
Consumer Money Rates
| | | |
| --- | --- | --- |
|   | Last | 1-year ago |
| Prime Rate | 3.25 | 3.25 |
| Fed Funds | 0.25 | 0.25 |
| 30-year mortgage | 4.69 | 5.38 |
Currencies
| | | |
| --- | --- | --- |
|   | Last | 1-year ago |
| Dollars per British Pound | 1.510 | 1.650 |
| Dollars per Euro | 1.244 | 1.416 |
| Japanese Yen per Dollar | 87.580 | 96.460 |
| Canadian Dollars per Dollar | 1.062 | 1.148 |
| Mexican Peso per Dollar | 13.052 | 13.114 |
Commodities
| | | |
| --- | --- | --- |
|   | Last | 1-year ago |
| Crude Oil | 72.95 | 69.31 |
| Gold | 1208.98 | 941.55 |
Bond Rates
| | | |
| --- | --- | --- |
|   | Last | 1-month ago |
| 2-year treasury | 0.63 | 0.73 |
| 10-year treasury | 2.96 | 3.25 |
| 10-year municipal (TEY) | 4.69 | 4.66 |
Treasury Yield Curve – 7/2/2010 
S&P Sector Performance Charts – 7/2/2010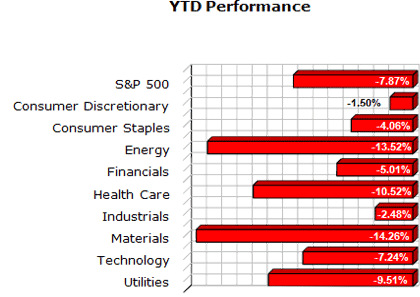 Economic Calendar
July 5
 — 
Independence Day Holiday (markets closed)
July 6
 — 
Small Business Optimisim (June)
ISM Non-Manufacturing Index (June)
July 8
 — 
Jobless Claims (week ending July 3)
July 14
 — 
Retail Sales (June)
FOMC Minutes (June 22-23)
July 16
 — 
Consumer Price Index (June)
Mid-July (TBD) — Bernanke Monetary Policy Testimony
July 30
 — 
Real GDP (2Q10, advance estimate)
August 10
 — 
FOMC Meeting