Written by U.S. Army Sgt. Brent C. Powell 3rd Brigade, 101st Airborne Division Public Affairs
Khost Province, Afghanistan – More than 50 commanders from the Afghan Border Police and their U.S. Army mentors from five different battalions spread across three provinces met at Forward Operating Base Gardez July 5th through 7th for a quarterly kandak commander's conference.
The conference was held to collect ABP kandak, an Afghan battalion, status updates, distribute the zone commander's guidance and intent, and to address any concerns or problems the different units are having,  according to U.S. Army Lt. Col. Walter J. Smiley Jr., battalion commander, 3rd Special Troops Battalion, 101st Airborne Division
"We try and schedule these about every three months," said Smiley, a native of Oklahoma City.  "It allows the commanders in Zone Two to address common problems, and it gives me and my staff the opportunity to meet the kandak commanders and their administrative staff face to face."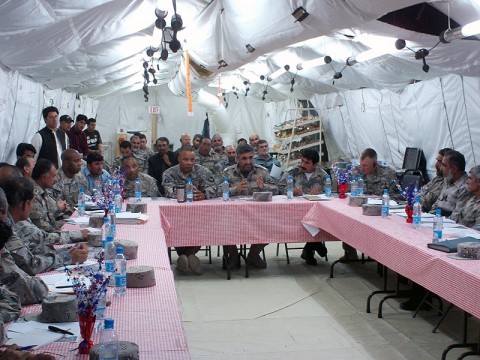 Smiley's unit is directly responsible for mentoring the ABP brigade staff, which includes seven kandaks from Paktika, Khost and Paktya Provinces. The brigade is responsible for about 50-miles of the Pakistan-Afghanistan border and has more than 3,000 personnel.
The two-day conference began with comments from Maj. Gen. Nabi Jan Mollakhail, commanding general, ABP Zone 2.  He began by encouraging each of the kandak commanders to take responsibility for the development of their kandaks.  He also addressed the problem of corruption stating, "those who are caught will be prosecuted."
Following Mollakhail's speech, each kandak commander took turns addressing problems related to their specific area of responsibility.
Issues discussed included the need for additional water wells, various equipment deficiencies, communication issues, conducting joint patrols with coalition partners and force protection concerns.
"I think the best part of this conference was that the kandak commander got to put his problems out to the zone," said U.S. Army Sgt. Stephen M. Walsh, a 24-year-old squad leader with 1st Battalion, 187th Infantry Regiment and mentor for the 6th Kandak, 2nd Zone, ABP.  "It's important for them to be able to let everyone know the issues they are having so they can get the assistance they need."
Another key aspect of the conference is that it allowed the U.S. mentors to get some valuable information and assistance as well.
"I was able to speak with the 3rd STB staff who helped me with some reporting issues I was having," said Walsh, a native of Athens, PA  "Now I will be able to move things along more quickly in the future."
The next commander's conference is already being planned and worked on.
"Our next conference will be sometime in September," said Smiley.  "It will be especially valuable for the planning and coordination of security for the upcoming elections."
Conducting the quarterly conferences is just one way the 3rd STB is helping the ABP prepare for the future.
"We are definitely moving in the right direction," he said. "When we leave here the ABP is going to have grown not only in personnel, but in their capabilities as well."