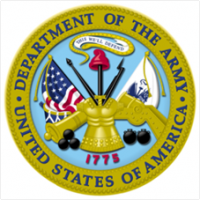 Nangarhar Province, Afghanistan – Resupplying U.S. and Afghan National Army units spread out across Afghanistan, many at remote forward operating bases and forward outposts them with basic necessities can be a daunting task.
Many of the roads to the remote locations are unpaved and potentially filled with improvised explosive devices; some locations use a safer and usually quicker solution: air drop.
Soldiers of the 82nd Special Troops Battalion, headquartered at Fort Bragg, NC, and the Afghan National Army 201st Flood Corps combined for the first joint air drop at FOB Gamberi July 10th.

"We wanted to show the ANA something they haven't done before and the process and coordination of conducting an air drop," said U.S. Army Sgt. Michael Gaffney, 82nd STB intelligence noncommissioned officer in charge and Sherman, IL, native.
Soldiers from the 11th Quartermaster Company, from Fort Bragg, NC, packed the supplies and equipped them with parachutes. Coordination between the 82nd STB at FOB Gamberi and the parachute riggers of the 11th QM Co. started weeks before the actual drop occurred.  Flight operations at Bagram Airfield scheduled the drop.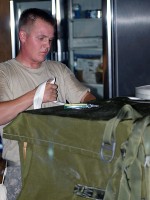 "It's good to be involved in this," said U.S. Army Spc. James Munns, 11th QM Co. air drop specialist and Little Rock, AR, native. "When people need things to get in fast, that's what we are for. Plus, it doubles as training for the ANA, so they will be able to see how to set up a drop zone and how to recover the drop."
The ANA and U.S. Soldiers watched from the gate of FOB Gamberi as the back of the U.S. Air Force C-130 opened up and parachutes deployed as the pallets of supplies made their way to the ground.
From there the ANA raced out with a forklift and flatbed trucks ready to retrieve the resupply from above.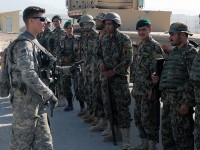 "The ANA did really well recovering the air drop," said U.S. Army Cpl. Douglas Roberts, a platoon NCO with Headquarters, Headquarters Company, 82nd Main Support Battalion and a Richmond, VA, native. "After helping them recover a couple parachutes and pallets, we let them take over and they were very fast and efficient. They did a great job."
"This was great training and we got a lot of experience by working with our U.S. Army counterparts," said ANA Sgt. Shaiullah Shahir, a logistics NCO for the 201st Flood Corps.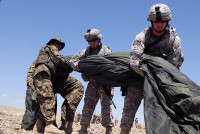 The air drop consisted of wood to build new buildings, barriers for base security, water and Halal meals, the ANA's version of Meals Ready to Eat. 
The building supplies will be put to good use as FOB Gamberi is expanding and is going to be the future home of the 201st Flood Corps headquarters and the regional military training center for Regional Command East, said U.S. Army Maj. Gary Brock, executive officer for the 82nd STB and an Athens, AL, native.
"Understanding how an air drop operates is very important to the ANA here at Gamberi because this is the future site of the 201st headquarters," Brock continued. "The hope is they will soon be able to conduct the missions without any assistance from us."