A Devotional By Brother Shepherd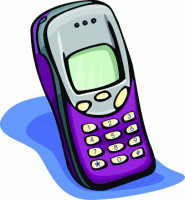 Not to long ago I got a new cell phone which has a connecting ear piece and you can hear and talk with your hands free. These are great safety features but, as with all technology it has to be set up properly before it will work. I spent some time going over the instructions before I got the right connection and I am able to use it.
I was thinking about talking with God and how we have to have the right connection before that's possible. I thought what connection do we need to be able to talk to God? The first one I came up with is: we have to believe in God. Secondly we can only go to God through Jesus Christ. He is our connection.
In Matthew 6:9-13, Jesus teaches His disciples to pray and we call it the Lord's Prayer and the very last verse reads, "And lead us not into temptation, but deliver us from evil:  For thine is the kingdom and the power, and the glory, for ever. Amen. This last verse adds an exclamation of what our attitude should be toward God.
On this cell phone I'm using, if I hadn't had the right connection it wouldn't work. In John 14:6 it reads, "Jesus said, I am the way, the truth, and the life: no man cometh unto the Father, but by me." The statement for today is to make sure that you have the right connection.
This is Brother Shep asking you to think about this.
PS: Matthew 28:18-20
"If you are growing, you are going"