Breyers® ice cream teams up with renowned pastry chef Gale Gand to find best sundae in America
Englewood Cliffs, NJ — Hot Fudge and Bananas Foster sundaes are celebrated members of the sundae Hall of Fame, and now Breyers® is in search of the next sundae great with the Sundae Scoop-Off Contest. With the help of renowned pastry chef Gale Gand and ice cream lovers across the country, the classic ice cream sundae will get a deliciously creative, modern makeover this summer.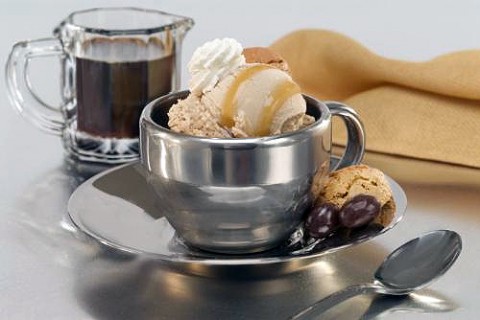 Beginning today and running until September 13th, 2010, the Sundae Scoop-Off Contest challenges America to create family-friendly ice cream sundae recipes including 10 or fewer ingredients. Enter the recipes at
www.breyers.com
for a chance to win $10,000, a trip to Chicago featuring a private cooking lesson with Gand and one year of FREE Breyers® ice cream.
The sundae recipe entries will be judged on taste, creativity, use of Breyers® ice cream and presentation.
A Modern Twist on the Classic Sundae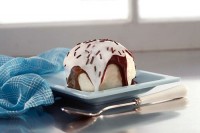 In addition to judging the Sundae Scoop-Off Contest, Gale Gand has created a variety of recipes that put a creative twist on the classic ice cream sundae–everything from the ultimate in family fun to the perfect solution for a dinner party dessert. Gale's recipes include the Snow Ball Sundae, the Spaghetti and Meatball Sundae, Ice Cream Lollipops and the Mini Coffee Ice Cream Sundae.
Along with her special sundae recipes, Gand provides her top 10 tips for sundae-making, including using two or more ice cream flavors in a sundae to add extra flavor and flair, or rolling scoops of ice cream in any kind of cookie crumbs, crunched cereal or chocolate milk powder to create an ice cream "truffle."
More All Natural Deliciousness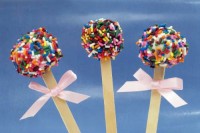 Great sundae recipes start with great ice cream! Continuing the tradition of creating real ice cream made from only the finest ingredients, Breyers® has refined many family-favorite varieties in the All Natural ice cream line to deliver an even richer and more indulgent dessert than before. For example, Breyers® All Natural Chocolate Chip Cookie Dough is now bursting with cookie dough and chips, and Breyers® All Natural Rocky Road has 20 percent more marshmallow and chocolate flavor.
"My favorite flavor of Breyers All Natural Ice Cream is Butter Pecan," said Gand. "I don't always go with tradition, but this ice cream flavor is everything I want it to be. It's creamy and sweet. And the toasty flavor of the nuts with an ever so slight saltiness, plus their subtle crunch, make them the perfect foil to the smooth, rich-tasting vanilla ice cream surrounding them."
2010 Sundae Showcase Mobile Tour
Breyers® is taking the art of the sundae on the road and partnering with popular local chefs to create signature ice cream sundae recipes. The Sundae Showcase will visit eight cities, from July 31st-September 11th, 2010.
While at the Sundae Showcase events, families can indulge with free scoops* of delicious Breyers® Original All Natural Chocolate Chip Cookie Dough or Homemade Vanilla ice cream, get creative at the build-your-own sundae bar, and enjoy games, entertainment and chef sundae demonstrations.
Sundae Showcase Tour Schedule:
July 31st: Jacksonville, FL at Riverside Arts Market
August 7th: Norfolk, VA at Saturday Summer Street Festival
August 8th: Richmond, VA at Carytown Watermelon Festival
August 14th: Nashville, TN at Nashville Zoo
August 21st-22nd: Louisville, KY at Kentucky State Fair
August 29th: Raleigh-Durham, NC at Kids Fest at Triangle Town Center
September 4th-5th: Indianapolis at Rib America Festival
September 10th-11th: Charlotte, NC at Blues, Brews & BBQ
For more information on the Sundae Scoop-Off Contest, the signature recipes from Gale Gand and local chefs, and the Sundae Showcase tour, visit www.breyers.com or www.facebook.com/breyers.
Bravo's "Top Chef Just Desserts"
Tune in this fall to Bravo's upcoming "Top Chef Just Desserts." Gale Gand will serve as a guest judge, while Breyers® All Natural Ice Cream is the exclusive ice cream partner of the new series. Stay tuned!
*While supplies last.
Abbreviated Contest Rules
No purchase necessary. Void where prohibited. The Sundae Scoop-Off Contest is sponsored by Conopco, Inc. d/b/a Unilever. Open to legal residents of 50 U.S. & D.C., 18 or older. Starts 12:00pm ET on 7/26/10 and ends 12:00pm ET on 9/13/10. For official rules, visit www.breyers.com/promotions/sundae-showcase-contest/contest-entry.aspx.
About Gale Gand
Gale Gand is the executive pastry chef and partner of the Five Diamond, four star restaurant TRU in Chicago, and was named pastry chef of the year by The James Beard Foundation and Bon Appétit magazine in 2001. Host of the Food Network's "Sweet Dreams," Gand has appeared on "Iron Chef America," "Martha Stewart," "Baking With Julia (Child)," and judged Bravo's "Top Chef." Gand is also an accomplished cookbook author with seven titles to her credit including "Chocolate and Vanilla" and her most recent, "Gale Gand's Brunch." She also has her own root beer company producing "Gale's Root Beer." She has a BFA from RIT and attended culinary school at La Varenne in Paris. Gand is married to an environmentalist, has a 13-year-old named Gio and twin 5-year-old girls, Ella and Ruby.
Visit her website at: www.galegand.com.
About Breyers® All Natural
Discover the joy of real ice cream, made from only the finest ingredients. Breyers® Original All Natural ice cream is available in 29 indulgent varieties, including Rocky Road, Mint Chocolate Chip, Chocolate Chip Cookie Dough, Coffee and Homemade Vanilla. Breyers® ice cream is available in grocery stores nationwide for the suggested retail price of $3.99 – $5.99.
About Unilever North America
Unilever works to create a better future every day. We help people feel good, look good and get more out of life with brands and services that are good for them and good for others. Each day, around the world, we serve over two billion consumers. In the United States, Canada and the Greater Caribbean (Trinidad & Tobago, Dominican Republic, Puerto Rico) the portfolio includes brand icons such as: Axe, Becel, Ben & Jerry's, Bertolli, Blue Band, Breyers, Caress, Country Crock, Degree, Dove personal care products, Hellmann's, Klondike, Knorr, Lipton, Omo, Popsicle, Promise, Q-Tips, Skippy, Slim-Fast, Suave, Sunsilk and Vaseline. All of the preceding brand names are registered trademarks of the Unilever Group of Companies. Dedicated to serving consumers and the communities where we live, work and play, Unilever employs more than 13,000 people across North America – generating nearly $10 billion in sales in 2009. For more information, visit www.unileverusa.com, www.unilever.ca, or www.unilevercaribbean.com.