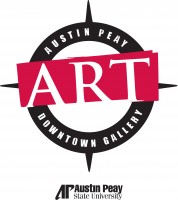 The Austin Peay Downtown Gallery will present a new exhibit, "Seriously (WTF)" by Donna Stack ('96), from August 5th-28th, 2010, with an opening reception from 5:00pm-8:00pm, August 5th.

Stack will present a selection of video and installation works that explores her ongoing investigation into issues of identity, femininity and authenticity, with a selective ambit into how hypocrisy functions within these realms.

Stack received her Master of Fine Arts from the University of South Florida in 2002 and her Bachelor of Fine Arts from Austin Peay State University in 1996. She is an interdisciplinary artist with an emphasis in installation, video and performance.

Stack has exhibited at such venues as Talman + Monroe Gallery in Brooklyn, NY, Primo Piano Livingallery in Leece, Italy, and Bumbershoot Festival in Seattle, WA She was recently included in the exhibition "Family Matters" at Sushi: A Center for the Urban Arts in San Diego, CA. Her work has been reviewed in a number of publications including art US, Artweek and Mavin magazines. She is also the recipient of a 2004 and 2007 Artist Trust GAP Grant and 2009 Iowa Arts Council grant.

Last year, the APSU Center of Excellence for the Creative Arts leased a building in downtown Clarksville to provide gallery space for APSU alumni, such as Stack. The gallery, located at 116 Strawberry Alley in downtown Clarksville, is open from noon to 4:00pm, Tuesdays through Saturdays. For more information on this space or the exhibit, contact Gregg Schlanger at 931-221-7789 or .



Sections
Events
Topics
APSU, APSU Center of Excellence for the Creative Arts, Artist Trust GAP Grant, Austin Peay Downtown Gallery, Austin Peay State University, Donna Stack, Downtown Clarksville, Family Matters, Gregg Schlanger, Iowa Arts Council Grant, Seriously (WTF), Strawberry Alley, University of South Florida