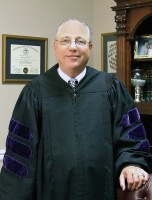 Judge Ray Grimes, of Clarksville, has been elected President of the Tennessee Council Of Juvenile and Family Court Judges. The Council represents the 98 courts with juvenile court jurisdiction in the state's 95 counties.
The goal of the Council is to educate and provide technical assistance to the state's 112 judges, 34 magistrates, and over 350 staff with juvenile court jurisdiction.
The Hornorable Judge Grimes obtained his law degree from the University of Memphis. He began his career as an attorney in Clarksville in 1981 and was elected General Sessions & Juvenile Court Judge – Division III in 1988. He served as County Commissioner from 1994 – 1998.
He is married to Sharon T. Massey, a Clarksville Attorney. For more information about the Council go to www.tennessee.gov/tcjfcj.