The Children's Theater presented a wonderful, entertaining, eco-friendly program to an audience of sixty two visitors at Dunbar Cave State Natural Area On Saturday, July 24th.
This event began with a children's art project, involving coloring and cutting out leaves and making frog hats, later used in the audience participation portions of the skits. Two skits, The Squirrel and the Acorn and The Caterpillar and the Frog, were acted out at the cool cave entrance.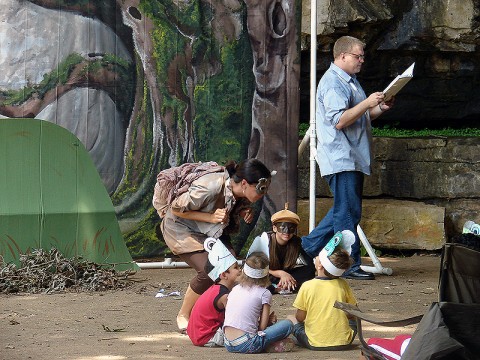 In the first, a very smart and persuasive acorn convinced the squirrel to "hide" her in the ground over the winter, and later turned into a tree (of course) which offered shelter to the squirrel. The caterpillar and the frog became friends rather than Eater and Eaten, as the caterpillar spun her cocoon and turned into a butterfly.
The stories were written and read by Joe Woztkiewicz, and acted by Mary Beth Smith, Chloe Smith and Reagan Smith and various small audience members. Jessica Lee organized the event, painted the wonderful backdrop, and made the costumes. All items were donated (such as the paint) or recycled – the costumes were made from things found at Goodwill – and will be reused in other presentations.
If you missed this, you missed a very entertaining morning – but you will have the chance to see the next presentation—
Animal Tales (or is it Tails?), on Saturday, August 28th, at 11:00am at the cave. Bring a chair or something else to sit on, bring snacks or a picnic if you like, and bring your children at 10:30am if they would like to take part in the craft activity beforehand and be in the skit afterward. This event is free (donations accepted by the group), for all ages and a great way to spend an hour outdoors, but in the cool cave breeze,  learning about animals. Please make reservations for the craft segment so that enough materials can be provided for everyone – call 648 -5526 to make reservations (area code 931 if you are calling long distance). We hope to see you then!