David Midlick, a former Austin Peay State University men's basketball volunteer assistant coach, has returned to the Dunn Center as an assistant coach for the women's basketball team, head coach Carrie Daniels announced, Tuesday.
Midlick joins third-year assistant coach Laphelia Doss and recent hire Jessica Grayson on Daniels' coaching staff for the 2010-11 campaign.
"I am excited to have David join our staff," said Daniels. "David is a quality person and an excellent coach and adding him to this staff will only help this program move towards the goals we have set out for it. Bringing a third assistant coach is important to the direction we want to move this program. I believe our players will be excited to work with this coaching staff during the upcoming season."
 "I appreciate the opportunity Coach Daniels has given me," said Midlick. "I am excited to be with this program considering the success it has had the past two seasons. I am looking forward to working with the coaching staff in whatever way I can to build on the success this program has enjoyed. I want to help the players on this team develop as players and ladies."
Midlick, who has lived in the Clarksville area the past eight years, recently resigned as assistant coach at Tennessee State where he spent the previous four seasons under head coach Tracee Wells. While at TSU, Midlick was the program's recruiting coordinator and directed the team's post development. He helped develop Lady Tigers standout post players Obiageli Okafor – a first-team All-Ohio Valley conference selection in 2010 – and Jasmine Smith – an OVC All-Newcomer team selection in 2009.
As a volunteer assistant coach for the Govs in 2003-06, Midlick honed the talents that would serve him well at Tennessee State. He was responsible for preparing scouting reports and video preparation and assisted in the evaluation and recruitment of student-athletes.
He came to Clarksville and Austin Peay after spending much of the previous decade as a physical therapist in the Greenville, Ms, area. While there he twice served as head boys basketball coach (1994-97, 1999-03) at Washington High School and also served as varsity girls coach from 1999-02. In between his stints at Washington, he coached varsity boys and girls at Indianola Academy. He was North AAA Coach of the Year in 1996 and District I-AAA Coach of the Year in 1999.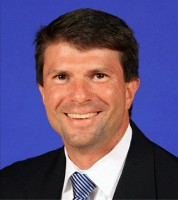 Midlick enjoyed a strong career as a guard at Mississippi under head coach Ed Murphy. He led the team in free-throw and three-point field goal percentage in 1989. In fact, he helped beat the Govs, 83-80, in 1990 by hitting a late shot in Dave Loos' first APSU season.
The Rebels were a National Invitational Tournament participant in 1989 and an Southeastern Conference tournament finalist the following season. Midlick was a three-time Academic All-SEC selection (1989-91) and was a 1991 SEC Male Scholar-Athlete and a finalist for Scholar-Athlete of the Year.
Midlick received his bachelor's degree in biological science in 1991 and followed that with a bachelor's degree in physical therapy from the University of Mississippi Medical Center in 1994.
He is married to the former Leslie Biddle, also a physical therapist. They have two sons, David Jr. and Will.
The Midlick File:
College Education –
Mississippi (B.S., Biological Sciences), 1991
Mississippi (B.S., Physical Therapy), 1994
Playing Experience –
Coaching Experience –
Tennessee State, women's assistant coach (2006-10)
Austin Peay, men's assistant coach (2003-06)
Washington HS, boys head coach (1994-97, 99-03)
Washington HS, girls head coach (1999-02)
Indianola Academy, boys and girls head coach (1997-99)