An editor for Writer's Digest Books, Chuck Sambuchino is the author of two resource books for writers. His Guide to Literary Agents is a much have book for writers who are looking for an agent as is his Screenwriter's and Playwright's Market for those who wish be viewed in those markets.
He assists in editing Writer's Market and the third edition of Formatting and Submitting Your Manuscript (a Writer's Digest trade book, 2009).
In September, 2010, his humorous book, How to Survive a Garden Gnome Attack, will be available. His blog is found at www.guidetoliteraryagents.com/blog. He has placed more than 600 articles in newspapers, magazines and books.
Chuck knows how to get published. Here are some of his suggestions!
A book proposal for fiction has to include sending several sample chapters to a publishing house; the book needs to have been completed.
A nonfiction book is another matter. The book is probably not finished—and an editor would probably prefer that it not be finished! A book proposal must be small in size and small in scope.
Most book proposals should answer three questions: What is it? (What is the book about?) What is its place in the market? (What other similar books are available and how is your book different and saleable?) Why should you be the person to write it? (What are your qualifications and what have you written before?)
A good book proposal is between 15 and 50 pages long. You need to emphasize why your book is unique and why it is necessary. What is your format and how long will it take you to write this book? How much artwork will be necessary to illustrate the book and who is going to provide it? Will you need photographs or cartoons or paintings?
A writer who wants to sell a book has to step into the shoes of a business professional. You need to have published elsewhere. If you haven't published before, you need to work on getting some credentials by writing for small local publications like Clarksville Online or Discover Clarksville.
For instance, if you want to write a book based on the history of older theater buildings, you need to research historic societies, groups of architectural buffs, find names of historic restorers of theaters, etc. This will give you some rough estimate of how many people might be interested in buying your book.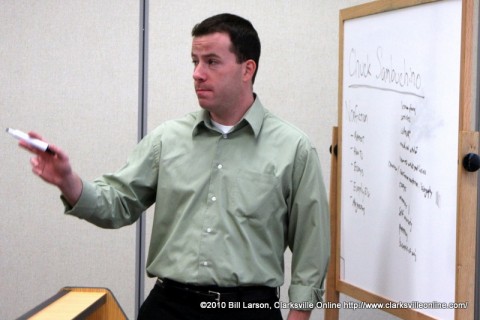 You'll have to provide sample chapters. This gives an agent or editor some idea of your writing style and whether or not you have any depth to your subject. These chapters must be double-spaced and the pages should be numbered. No editor who drops your manuscript by accident is going to read through to figure out the order of the pages. You'll need to send at least three chapters with your book proposal. Usually, those are the first chapter and two others that are reflective of the book.
Where will your book be placed on the shelves of a bookstore? Are you writing a gardening book or a cookbook? Is your book describing a religious subject or telling people how to get rich in three easy lessons?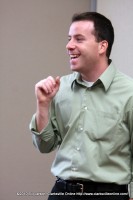 Usually when a book is published the first time, the print run will be somewhere between 3,000 and 15,000 copies. After these sell, another run will be printed, etc.
Do not disparage other books on a similar subject to yours when you write your proposal. Calling the other tomes on this subject "garbage" will not present you favorably in an editor's eyes! You do need to point out other books on a similar subject that have sold well. Trade books are available that list how many of each book has been sold; all literary agents have access to these expensive books.
Your platform (who are you and what are your credentials?) matters. It usually takes years to gain visibility. When you speak, who listens? What other magazines have you written for? Have you written any other books? Have you spoken in front of any groups? Do you have any media connections? Are you on Facebook? Twitter? Do you have a web site?
Promoting yourself is an essential part of being a published writer. Getting shorter articles on the same subject as your book is a good way to build your platform. You have to prove you have an audience.
Your query letter should begin with a hook. Get attention immediately and tell what your story is about. Examples of a hook are questions like "Did you know ….?" Or you can begin in the middle of your story. Create tension so that the editor wants to read more.
Then give details of your book such as how long you expect it to be, why readers will enjoy it, etc.
Finish a query with your bio and, if you have them, give links on the Web. For magazines, you can usually query on line. Do not add attachments because editors will not open them for fear of getting a virus on the computer. Copy into the body of your letter or give links instead.
Becoming a published writer begins with writing something of worth, but being published requires business acumen.
Chuck Sambuchino advises beginning writers to get published wherever they can without worrying whether or not they are getting paid for those first articles. Writers need to start with small markets and move to medium magazines before even approaching the big ones. "You have to build up chips for the next level," he said.
Just remember, he warned. When they buy it, it's theirs. You no longer have control over it. Even major authors sometimes barely recognize their scripts when they become movies.
Don't forget that when your book is published, you need to work just as hard at getting it seen by as many people as possible. Organizations you belong to are great places to have your book announced.
One of the great advantages of attending the Clarksville Writers' Conference every year is that professionals like Chuck Sambuchino are eager to help aspiring writers and to give them the advice they need in order to become successful.
Also, writers may pursue other passions at the conference as well. Chuck is ever on the lookout for the perfect chocolate chip cookie. With the fabulous food offerings at the Clarksville Conference, he might just find it there!
A perfect book proposal is within the reach of any good writer. With Chuck to teach you the rules, you may just be the next published author to get your book published next year.