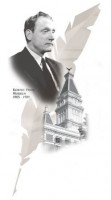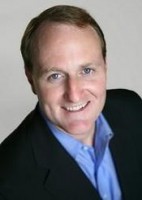 A. Scott Pearson was introduced at the Sixth Annual Clarksville Writers' Conference by Howard Winn, professor emeritus of Austin Peay State College and distinguished author in his own right. Professor Winn stunned the audience by revealing that Dr. Pearson had saved his life several years before when he was suffering from cancer.
Howard went on to describe the busy life of Dr. Pearson who not only serves at Vanderbilt University as an assistant professor in the surgery department specializing in oncology (involving teaching classes) but combines colon cancer research with the clinical practice of surgery. (In other words, he operates on patients too.)
Dr. Pearson somehow fits writing novels into his otherwise amazingly busy life. At home, his wife and he have two sons and as he told his eager listeners, "I don't give up time with my kids."
Scott related that he spends at least 45 minutes every morning (very early) writing about five days a week. "If you write a page a day at that rate, at the end of a year, you have a book," he disclosed.
"I started writing in an attempt to understand some events in my medical life," he said. Rupture, his first published novel, is actually the second book he's written. His first manuscript, set in 1970, is about a 13-year-old boy who is caretaker for an African-American woman who can't receive the care she needs otherwise. It's still for sale.
"I met the publisher of Rupture at a writers' conference in 2007," Scott reported. "Now I have an agent but then I didn't."
Perhaps Dr. Pearson's attitude towards patients is what led to his interest in writing medical novels. He quoted Hippocrates, "It is more important to know what person the disease has than to know what disease the person has." In other words, Dr. Pearson is interested in the person's life before, during and after the illness.
"We teach students about the disease and how to treat it in med school," he said, "but it's harder to teach them this softer side." Howard Winn interjected that the first time he met Dr. Pearson, he was struck by the amount of time Scott spent getting to know him as a person and in understanding his life and work.
Dr. Pearson truly believes that narrative medicine—learning the patient's story—is critical in epitomizing health care. He said that the push in medicine to see more patients in a shorter time in order to make more money for hospitals (and physicians themselves) is a great challenge today.
Scott feels that the socio-economic conditions in which a patient lives, the geographic location of the patient's home, and whatever is specific to that patient is the basis for evidence-based medicine. As a result, he teaches a class in narrative medicine for undergraduate students who believe they want to go into the medical field of study.
He actually asks these students to keep a journal about their experience with illness. "The class is fun to teach and is enjoyable for students," he said.
"We surgeons alter the quality of life and intervene at a very invasive level, especially for cancer patients," he explained. "I've actually operated on one patient 12 times. We have to think more broadly about patient care."
Rupture followed Dr. Pearson's research into the approach of other medical writers. "I slept through most of high school," he admitted, "and nearly failed my English classes so I had some work to do."
W. Somerset Maugham said, "There are three rules for writing a novel. Unfortunately, nobody knows what they are."
"I'm constantly revising," Scott said, "but I finally end up with a manuscript. There are three phases of getting a book in print. The first is writing which is solitary and boring as you sit there staring at the blank piece of paper. Then there's the publishing phase. I was very naïve and had no contacts in publishing at all. I experienced the 81st rejection as I learned that selling a book is a whole art in itself.
"Last is promotion and marketing. It took me about 18 months from the signed contract, through the editing era that involved checking facts and dates, and then the press reviews were next," he concluded.
"About six months before Rupture came out," Scott reported, "I decided to look it up on Google. I found it on a site that dealt with hemorrhoids and later on a Scandinavian tummy tuck site!"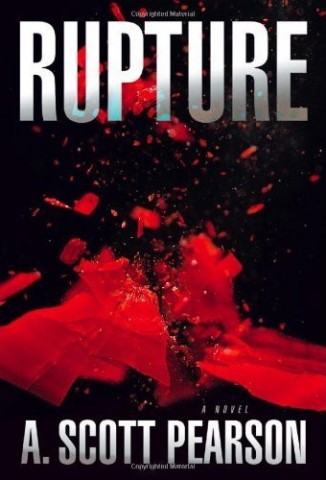 The medical thriller, Rupture, takes place in Memphis at the "University of Midsouth Medical College." Eli Branch, a young surgeon-scientist and the son of a renowned professor of anatomy at this same school, discovers the dark side of medicine and web of lies as more and more victims meet sudden and violent death. He links up with Meg Daily, a forensic pathologist, in a life-and-death race against time.
The title of the book reveals Scott's metaphor for the disruption between medicine and the trust of society. The book is a page-turner that is not to be missed. Scott is already well into completion of his next novel, Public Anatomy, that will be released on March 7, 2011.
Dr. Pearson's advice to aspiring writers? "Everyone is busy. Most people don't have four or five hours a day to write. Leave something off. I don't exercise but my wife gets up every morning to run. Don't wait until you have days or weeks in a row to write.
"Take what time you have."