AutoMD.com Helps Parents Make Sure Their Son's or Daughter's Back-to-School Car is Safe and Ready to Drive
Carson, CA — Whether your back-to-school kid is driving to college or high school, it is important that his/her vehicle is in tip-top shape and, above all, safe to drive. Sadly, motor vehicle accidents are the leading cause of death for U.S. teens1, and neglected vehicle maintenance leads to 2,600 deaths annually and nearly 100,000 disabling injuries.2
With this sobering data in mind, AutoMD.com's team of expert mechanics has released its Top Five DIY Checklist for the Back-to-School Car, along with some practical advice to help parents ensure their kid's safety on the road — and their peace of mind at home.
AutoMD.com's Top Five DIY Checklist for the Back-to-School Car
Running through this checklist with your son/daughter should help encourage vigilance about vehicle maintenance when you are not around. In all cases, if you are not sure the car is safe to drive, you should have it inspected by your trusted local repair shop before your son/daughter hits the road.
Check the Tires, Check the tire pressure.
The recommended tire pressure is listed on a sticker in the glove box or on the door jam. If one tire is lower than the others, there's a good chance it has a leak and is in need of repair. 
Check the tread depth. Most states require a minimum of 2/32" of tread remaining. Place a penny in the groove with Lincoln's head down. If you can see all of Abe's head, then the tire tread is worn below 3/32". Most tires have tread wear indicators (raised bars) built into the tread to help identify a worn tire.
Check the wear pattern on the front tires. If a tire has excessive wear on the inside or outside of the tread, then a tire rotation and wheel alignment may be necessary.
Inspect the tires for tread separation, bulges, and weather cracking. The popular lower profile tires are more susceptible to damage when you hit pot holes.
Make sure that the vehicle has a usable spare tire.
(How to check tire pressure / How to change a flat tire)
Check the Brakes
Test drive the vehicle and check the brake operation. Is the brake pedal firm? Does the vehicle stop straight and smooth? Do you hear any noises?
If you can see the brakes through the wheels, inspect the brake rotor surface and wear. The rotor surface should be smooth without any discoloration, and the wear should be minimal (a worn rotor will have a noticeable lip on the end).
If you cannot see the brakes, support the vehicle on jack stands and remove the wheels. If you do not feel comfortable checking the brakes, take your son's or daughter's car to the local repair shop (search AutoMD). Some shops will check the brakes for free!
Check the Lights
Headlights – Inspect the high and low beams. Replace the bulb if it is burned out. Adjust the headlights if they are pointing to the ground or the sky
Taillight – Replace any bulbs that are burned out
Turn signals – Check the turn signal switch, flasher, and bulbs
Hazard lights – Check operation of front and rear bulbs
Brake lights – Step on the brake while your son/daughter checks the brake lights. If one light is not working, replace the bulb. Check the brake pedal switch if none of the lights turn on.
Interior lights – Check the dome, trunk and hood light if applicable.
Check Under the Hood
Turn off the car and allow the engine to cool off. Open the hood
Check the belts for damage and proper tension.
Check the hoses for cracks, leaks and deterioration.
Check the battery cables. Make sure they are clean and tight. If there is corrosion on the cables, clean them with baking soda and water.
Check the date code on the battery. If the battery is over 4 years old, have it inspected for free. It may need to be replaced.
Check the air filter. If it's dirty, replace it.
Inspect the fluid levels: Engine oil, transmission fluid (engine must be started and warm), power steering fluid, brake fluid, engine coolant, and windshield washer fluid. Add fluid or change the fluid if necessary.
Check for fluid leaks in the engine compartment and under the vehicle as well.
(How to replace a serpentine belt / How to replace a radiator hose/ How to replace an air filter / How to replace a battery / How to change your oil and filter)
Check the Glove Compartment
Make sure that the glove compartment has all the appropriate info and that it is easy to find, including: 
Owner's manual with maintenance records
Current registration and insurance
Roadside assistance information
Emergency phone numbers
Flashlight
Maps/portable GPS system
Vehicle Knowledge and Safe Driving Check
Once the vehicle has been checked out, AutoMD.com recommends that you go for a drive with your son/daughter to make sure he/she understand any quirks the vehicle might have — and how everything operates, from car alarm to cruise control to hazard lights to GPS system. Run through the different warning lights, what each indicates and how to respond (i.e., check oil, overheating, etc.).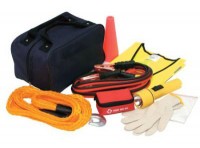 This is also a great time to review basic safe driving and traffic rules and to reinforce the dangers and consequence of speeding, and drinking/texting/cell phoning and/or surfing while driving. Run through a safety and 'what to do' protocol for a breakdown or accident – and in the event he/she is pulled over by the police. Make sure the vehicle has some form of roadside assistance and is equipped with a toolkit, emergency kit, and flares, etc. And, if you can, teach your son/daughter how to change a tire (for guidance, check AutoMD.com's How-to change a flat tire).
"Sending kids off to school in their own car is an important rite of passage… but one that can lead to sleepless nights for parents," said AutoMD.com President Shane Evangelist. "At AutoMD.com, we believe that information is not only power, but it is security. By providing a checklist that encourages kids to really know and understand their vehicle, as well as a wealth of easily accessible maintenance and repair information online, we hope to help parents feel a little less anxious as that son or daughter drives off to school for the first time."
About AutoMD.com
AutoMD.com™ (www.automd.com), a wholly-owned subsidiary of US Auto Parts Network, Inc., (Nasdaq:PRTS), is the most comprehensive and unbiased free online auto repair resource designed to empower car owners with the best way to repair their vehicles. Backed by a team of automotive data specialists and certified auto mechanics who are advocates for the car owner, AutoMD.com allows both car owners and DIYers to 1. Diagnose car problems, 2. Know how much auto repairs should cost, 3. Understand the steps needed and the time it should take with How-to Auto Repair guides, and 4. Find the right local auto repair shop at the right price for their issue and 5. Get your auto repair questions answered by the AutoMD.com community. AutoMD.com was named Best Automotive Website in the 8th annual American Business Awards, also known as the as the Stevie® Awards.
Unlike other repair sites, AutoMD.com does not rely on revenue from repair shops or dealerships, so car owners can rest assured that AutoMD.com repair shop listings are completely unbiased and designed to help car owners choose the best, most affordable shop for their vehicle issue.
---
1Centers for Disease Control and Prevention. Web-based Injury Statistics Query and Reporting System (WISQARS) [Online]. (2009). National Center for Injury Prevention and Control, Centers for Disease Control and Prevention (producer). Available from: www.cdc.gov/motorvehiclesafety/teen_drivers/teendrivers_factsheet.html. [Cited 2009 Nov. 3rd].
2AAA Press Release www.aaanewsroom.net/main/Default.asp?CategoryID=7&ArticleID=310