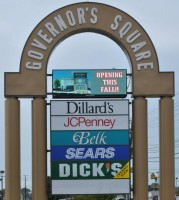 If you look around Governor's Square Mall, you will see many changes taking place over the past several months with the addition of Dick's Sporting Goods set to open soon.
Other happenings include the new 200 seat food court that is coming in late fall. It's advertised that China Wok II, Sam's Greek Cafe, and Chopsticks ( Japanese ) are some of the new restaurants coming to the Governor's Square Mall.
Halloween Express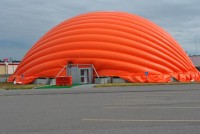 Some have already been asking… What is that HUGE orange thing that recently popped up across the parking lot from Target. If you have not seen noticed this by now, your sure to see it as you drive down Wilma Rudolph Blvd.
This HUGE orange dome is the temporary location of the Halloween Express. This is where you will find everything halloween from Costumes, Costume Accessories of all types for Men, Women and Children. Don't forget your hats, costume make up and props.
I was told that they will have everything you need for Halloween. Be sure to stop in and check out the selections.
You won't be able to miss this location. Just look for what appears to be a HUGE pumpkin just across the parking lot from Target.
Best Buy relocating
Also just to the far right side of the Governor's Square Mall parking lot, Best Buy is in the process of building their new location. The old Linens & Things is getting a major face lift as Best Buy is adding on to the buillding and will soon re-locate from their current location next to Premeire Medical. This is going to be a huge store.