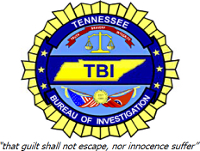 Nashville, TN – The Tennessee Bureau of Investigation will utilize a new communication service beginning September 1st, 2010 that will carry important alerts and messages directly to the community via the latest technology.
Nixle, a community information service, will allow TBI to create and publish messages to be delivered to subscribed residents instantly via cell phone
with text messages and/or email on a handheld device. Notifications can also be accessed online at Nixle's website at www.nixle.com. Subscribers decide the format to receive messages from TBI.
Messages will include information on AMBER Alerts and Top Ten Most Wanted fugitives as well as other relevant safety and community event information. The service is reliable and free for TBI to use. Nixle is similar to other public-to-public communications services, but adds a level of security necessary in law enforcement. When citizens receive information from TBI via Nixle, they know it can be trusted.
Residents of Tennessee can begin receiving pertinent TBI information via text message, email, or the web by registering at www.nixle.