Austin Peay State University women's soccer team opens its 2010-11 season with a 3:30pm, Friday match at Virginia Military Institute. The Lady Govs won the only prior meeting with the Keydets, 4-1, in Clarksville during the 2008 season.
Expectation-wise, the match will feature two teams with contrasting philosophies. Last season, Austin Peay struggled offensively, losing seven one-goal games, leading to a restructuring phase up front. Head coach Kelley Guth looked to answer a lot of those questions by bringing in freshmen Emily Kink and Joceline Quiceno to join the team's returning leading goal-scorers in seniors Kellie Cannon and Monique Wong.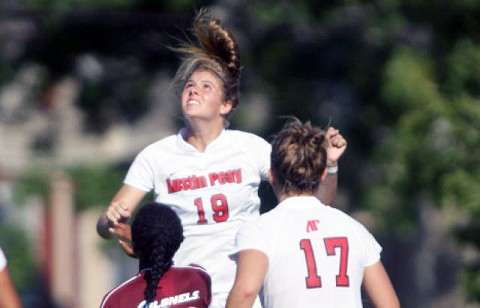 Quiceno torched Freed-Hardeman for a pair of goals in last week's exhibition game, while Kink also was one of seven Lady Govs score in the 8-0 win. The Lady Govs managed seven corners and scored on two of them – one in each half. They had 33 shots, including eight from Kink, while Joceline Quiceno had a team-best four on goal. It was a display of speed and continuity that Guth hopes to see translate into the regular-season.
Defensively, the Lady Govs return senior goalkeeper Carley Newman, as well as senior Hannah Jones, sophomore Jazzmine Chandler and junior Sara Kluttz. Chandler, a 2009 OVC All-Newcomer pick, scored a goal in the exhibition on a strike from just inside the midfield that caromed off the crossbar. Also joining the defense is freshman Corey Osborn who saw considerable time in replacing former defender Lauren Moon, who graduated in May.
Seniors Samantha Northrup and Michelle Johnson are two upperclassmen who highlight the midfield, being joined by freshman Andy Quiceno. The fact that all three scored goals against Freed-Hardeman is a sign of the Lady Govs potential strength.
VMI, meanwhile, will look to counter Austin Peay's projections of a strong offense with one of the Big South's best defensive squads. Highlighting the Keydets is keeper Angela Redmond, who posted the nation's fourth-best save percentage (89.1) in 2009. VMI allowed an average of 1.06 goals per game. Redmond is joined by returning midfielder Sarah Strand, a 2009 All-Big South selection.
The Keydets advanced to the semifinals of the 2009 Big South Championship, before falling to Winthrop after penalty kicks.
They were picked to finish eighth in the 2010 Big South preseason poll.
Live stats for the match will be available on www.LetsGoPeay.com.