Three Men Rescue a Driver from a Burning Vehicle

On August 23rd, between 4:53pm and 4:59pm, there were six vehicles involved in collisions. The chain of vehicle crashes began at Fort Campbell Blvd/Tiny Town Road and ended in the area of Britton Springs and Hadley Drive.
All of the crashes involved the driver of a 2009 Pontiac G8– Amy Fetter. She collided with vehicle after vehicle, never stopping until she crashed, was rendered unconscious, and her vehicle caught on fire.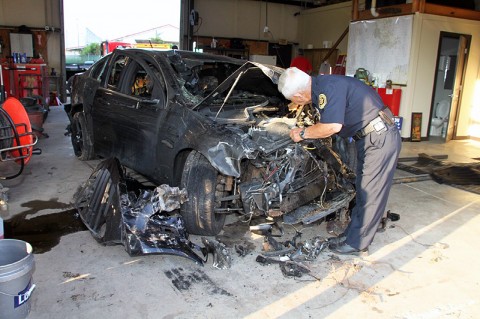 Three men, Robert Anderson, Diamond Dillard, and Brian Hartbanger, all of Clarksville came to her rescue and pulled her out of the passenger side of her crashed vehicle before it was fully engulfed in flames; Anderson was in one the vehicles which Fetter ran into.
The five vehicles, 2008 Toyota, 2009 Ford F-150, 1997 Chevy, 1989 Ford and 2004 Audi sustained damage but were driven from their scenes of impact.
There were two injured during the course of the collisions. One woman had minor injuries and was treated and released from Fort Campbell hospital.
Fetter was Lifeflighted to Vanderbilt with serious head and facial injuries. She is still hospitalized and in serious condition.
The cause of the accident is under investigation. The lead investigator is Andy Bechtold, 931-320-3741.