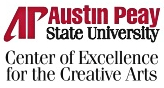 "There are no fingernails in this exhibition, but there is hair, and blood and a single pearly tooth," Billy Renkl, APSU professor of art, proclaimed in his essay on the new Manifold Exhibition, opening September 7th at the Trahern Gallery.
And indeed there are many macabre elements in this show, such as Laura Splan's paintings made with her own blood or Tim Pietrzak's wisdom tooth set within a ring. But the exhibit, which runs through October 1st, asks a larger question about the divisibility of the human body.
"Each of these artists considers the human body as a set of fragments, though our every biological impulse is to keep the body intact," Renkl wrote. "What does it mean, as an artist, to do the very thing that we try most, in life, to avoid?"
That question isn't easily answered. What is known is that for centuries, human beings have collected the hair of lovers, the bones of saints and the ashes of a deceased family member or friend. These artists merely expand on that tradition.
"The most powerful proxy for a beloved body is an enduring piece of that body," Renkl wrote.
His poetic text on the exhibition provides a guide through the haunting and beautiful works on display. In the end, one comes away with a deeper understanding of the conflicting fragility and sturdiness of our own lives.
"Perhaps our ability to think of the body as made of many components, each with a particular grace, is a companion to our ability to think of ourselves as inherently complex, a combination of the mechanical and the miraculous," Renkl wrote.
The Manifold Exhibition, curated by Renkl and APSU assistant professor of art Warren Greene, is sponsored by the Center of Excellence for the Creative Arts. For more information, contact the Center at 931-221-7876.