Written by U.S. Army Pfc. Roy Mercon Task Force Wolverine Public Affairs, 86th Infantry Brigade Combat Team (Mountain)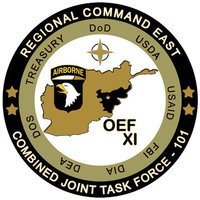 Parwan Province, Afghanistan – Soldiers with Headquarters and Headquarters Troop, 1st Squadron, 172nd Cavalry Regiment distributed much needed supplies to the village of Bashikal in Parwan province during a humanitarian aid mission August 25th.
The village was recently affected by flooding that caused damage to several villages in the area.
"What we [coalition forces] are trying to do is to distribute aid to those villages affected by the floods," said U.S. Army Capt. Terrance McIntosh, a civil affairs officer from Phoenix. McIntosh and his team went to the village to distribute aid, including rice and cooking oil, among other items.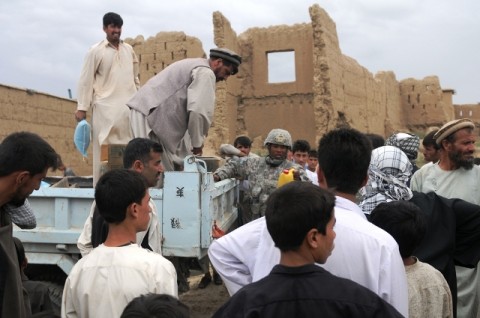 «Read the rest of this article»

Austin Peay State University's volleyball team opens its 2010 campaign with four matches at the 2010 Maroon Classic hosted by Mississippi State, Friday and Saturday.
The Lady Govs will meet Montana in a 3:00pm, Friday contest followed by a 7:00pm tilt against host Mississippi State. Saturday's schedule gets underway with a 10:30am match against Arkansas-Little Rock before APSU concludes its tournament stay with a 5:00pm affair with Texas A&M-Corpus Christi.
"The Maroon Classic is going to host some really great volleyball this weekend and we are thrilled to get the chance to face off against some very competitive teams," said Lady Govs first-year head coach Haley Janicek. "The team has been preparing both mentally and physically for the season to start. They are extremely excited and eager to see their efforts finally culminate in a match."
«Read the rest of this article»
On Saturday, August 28th at 6:00pm,  the Fort Donelson National Battlefield will host "The Civil War Singers" from the Dover Community Theatre for a concert featuring songs from the Father of American Music, Stephen Foster.
Oh! Susanna, Camptown Races, and My Old Kentucky Home, are just a few of Foster's songs The Civil War Singers will perform of Stephen Fosters.
So come on out to a nice evening of good song. There is even a special surprise promised at the end.

Austin Peay State University launched its own iPhone app August 25th. The app is available as a free download through the iTunes Store, operated by Apple – the manufacturer of the iPhone, iPad and other Mac computer products.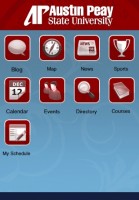 The APSU iPhone app has eight features for users:
A blog by APSU President Tim Hall.
Google map of the main campus.
APSU news.
Sports news.
Event calendar.
Faculty and staff directory.
Course catalog.
My Schedule, allowing students to see their class meetings.   
Two APSU students and an alumnus created the University's iPhone app. «Read the rest of this article»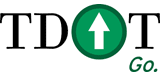 The paving operation on the TDOT resurfacing project, contract CNJ067, on New Providence Boulevard and Fort Campbell Boulevard will start Sunday night, August 29th.
This work will start around 8:00pm and run through the next morning until 6:00am, each night through early Friday morning. «Read the rest of this article»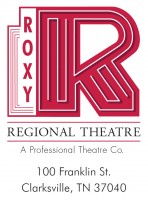 The final performance for the Roxy Regional Theatre's production of Stephen Sondheilm's "Into the Woods"  is tonight at 8:00pm. The musical play is a blend of several Brothers Grimm fairy tales. The plot follows the characters along as their wishes are granted and beyond.
This is by far one of the best productions I have seen at the Roxy. The actors performances are flawless and brings the characters to life on stage. If you are going to see only one show at the Roxy this year, this is the one to see. So let's pack the house tonight. I hope to see you all there.
ST. Petersburg, FL — The Gaylord Opryland Resort will once again serve as the host of the Baseball Winter Meetings™ in 2012. It will mark the sixth time that the annual gathering of professional baseball club and league executives will be held in Nashville. Opryland previously hosted the Baseball Winter Meetings in 1983, 1989, 1998, 2002 and 2007.
The Baseball Trade Show™ and the Professional Baseball Employment Opportunities Job Fair will also be held on site during the convention, from December 3rd -6th, 2012. 
Opryland is currently undergoing a restoration because of the record floods Nashville experienced in early May. The hotel, with over 2,800 guest rooms and 174 suites, is scheduled to re-open on November 15th.
«Read the rest of this article»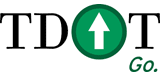 Nashville, TN – Nightly lane closures on Wilma Rudolph Boulevard (U.S. 79/State Route 13) will continue through Saturday as contract crews complete major construction work on the new bridge over the Red River. Wilma Rudolph Boulevard will be reduced to one lane tonight and Saturday night for the continued installation of bridge beams.
The closure periods are as follows:
Friday, August 27th, 2010 and Saturday, August 28th, 2010, 8:00pm – 6:00 am (each night) «Read the rest of this article»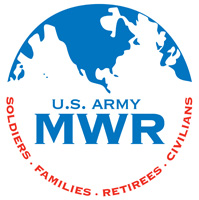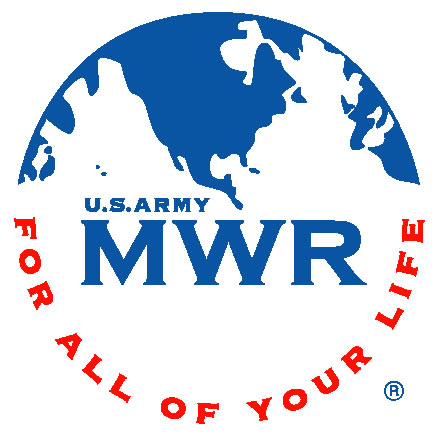 Fort Campbell, KY – Stay active and get to know members of your Company by participating in the Fall sports programs hosted by Morale, Welfare, and Recreation (MWR) Sports and Fitness.
Sports include Flag Football, Volleyball, and Soccer.
Gather your Company together and get ready to score touchdowns with Flag Football.
«Read the rest of this article»
Interested Applicatns Must Apply Online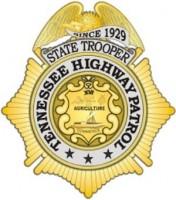 Nashville, TN — The Tennessee Highway Patrol (THP) announced today it is aggressively seeking men and women who are interested in careers in law enforcement for a new Trooper Cadet Class slated to begin in the spring of 2011, if funds become available. Applications will only be accepted from Thursday, August 26th through Friday, September 17th, 2010.
In an effort to recruit qualified candidates, the Tennessee Department of Safety invites interested individuals to visit an Informational Session, Friday, September 10th, and Saturday, September 11th, at the THP Training Center, located at 283 Stewarts Ferry Pike in Nashville. To attend, interested individuals must register online at www.appointment.com/trooper  to schedule a two-hour appointment between 8:00am and 4:00pm.
THP Special Programs Lieutenants and other Department of Safety representatives will also visit events, festivals and job fairs across the state over the next few weeks actively seeking men and women interested in serving as Tennessee State Troopers. «Read the rest of this article»