Written by Bagram Media Center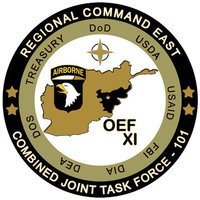 Khowst Province, Afghanistan – International Security Assistance Force servicemembers and Afghan National Security Forces repelled complex attacks at two bases in Khowst province, killing 31 insurgents and capturing five August 28th.
Insurgents attacked Forward Operating Base Chapman and FOB Salerno with indirect, rocket-propelled grenade and small-arms fire in an early morning assault.
ISAF ground forces repelled the poorly-synchronized attack, supported by combat aviation assets.
During the engagement, coalition forces killed 15 insurgents outside FOB Salerno's perimeter and four insurgents in a recoilless rifle firing position on a hill north of the FOB. Two insurgents breached the perimeter and were immediately killed by base defense forces who had them under surveillance.
Ten insurgents were killed outside the perimeter of FOB Chapman.
Additionally, Mudasir, a Haqqani Network facilitator for improvised explosive devices and suicide bombers, along with two other insurgents, were killed in an airstrike carried out by coalition forces as they were observed fleeing the attack in a vehicle. The precision air strike was carried out on the three insurgents after verifying insurgent activity and ensuring no civilians were present in the area.
ISAF servicemembers also captured five insurgents during the engagement, as well as destroyed two recoilless rifles and captured six rounds of ammunition for those systems.
Other weapons or munitions recovered included two RPGs, two machine guns, four AK47s rifles, eight fragmentation grenades, six magazines of 7.62mm ammunition, and 18 grenades used in recoilless rifles.
Additionally, combined security forces recovered 13 suicide vest IEDs from insurgents who attacked FOB Salerno.
Afghan National Police forces, along with ISAF servicemembers, captured a vehicle-borne IED and another vehicle carrying a variety of small-arms ammunition in the vicinity of one of the installations. Explosive ordnance disposal experts subsequently conducted a controlled detonation to destroy the vehicles.
Four ISAF servicemembers received minor wounds in the attack.
The incident is currently under investigation.