Norman Smith School has had some issues over the last few years. Located in a high poverty area reading scores at the school have had some room for improvement. So School leaders in conjunction with the teachers and concerned parents decided that they would do something about it. It started over the summer when with the help of volunteers, the school was given a face-lift.
At the same time the teachers were getting prepared for a new strategy. A new program designed to encourage the kids to learn to enjoy reading. "We set out to build a school wide culture of literacy. We want to make reading fun and cool for our kids." said Beth Unfried the Principal of the Norman Smith School.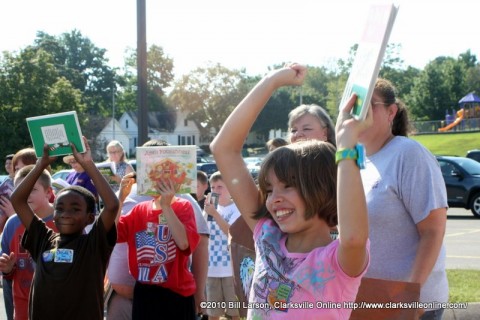 Montgomery County Mayor Carolyn Bowers was on hand to help kick off the start of the Gotta Keep Reading Program, she proclaimed September 2nd as Gotta Keep Reading Day in Montgomery County.
"Our teachers spent untold hours  preparing and going through extensive training this summer to learn the best practices in teaching children reading." she said,  "We've all bought into the sense of urgency to teach our children how to read better. We know that in order to teach all of our children to read proficiently, the process has to start at kindergarten and continue through the 5th grade."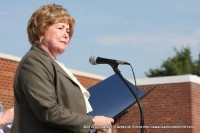 The process starts with the children taking a "Star Reading" test. The computer based test determines the reading zone of each student, and can measure both individual and class growth, then forecast results on standardized tests with the accurate, reliable, and efficient assessment students can complete in approximately 10 minutes.
Based on the results of the test each student is  assigned a goal to read a specified number of books. School wide they are looking to have 2,000 books read by the students by October 8th. The program will continue reassessing the children and then adjusting their goals every 9 weeks. Each one of these reassessments will be kicked off by a big event.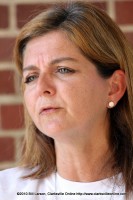 Another reward for students meeting their reading goals is something called the Accelerated reading (AR) store. When a each student meets 25%, 75%, and 100% of their goal there is a certain level of prizes available to them. Prizes range from Pencils and Bookmarks at the low end, to CD players, Cameras. Barbie Dolls, and Stuffed Animals at the high end.
"We are trying to involve our parents we have several reading clubs that we are offering. One of these is the century club where we are challenging each student to read 100 books with their parents. Each student keeps a log of books they read with their parents and the parents sign off on it." said Unfried. "We want to continue to encourage parents to read with their children, as it will help them meet the goal of becoming a proficient reader. It takes all of us working together as a team to make it happen."
Photo Gallery
The Proclimation
The Proclamation that was read by Montgomery County Mayor Carolyn Bowers.