APSU Women's Volleyball

Junior outside hitter Ilyanna Hernandez had 16 kills in both matches to lead Austin Peay State University's volleyball team to a pair of victories, Saturday, at the IUPUI Hampton Inn Invitational at IUPUI Gymnasium. The Lady Govs defeated Wright State, 3-1 (25-20, 21-25, 25-17, 30-28) in the opener followed by a 3-1 (25-23, 25-16, 20-25, 25-18) victory against DePaul in the day's second match.
Hernandez led the Lady Govs with 16 kills with a .213 attack percentage against Wright State, but added five service aces, 15 digs and three blocks to her performance. She followed that with a second 16-kill outing against DePaul, improving to a .250 attack percentage while also recording a service ace, seven digs and two blocks.
"Ilyanna came ready to play today," said Lady Govs head coach Haley Janicek. "She demanded the ball on offense and did a lot of good things. She never lost her composure and was very consistent."
Austin Peay (5-1) struggled in its opener against Wright State, particularly on defense where they surrendered a season-high 57 kills to Wright State. The Lady Govs picked up the victory courtesy the service game where they recorded nine aces – including the five by Hernandez – against 11 errors while Wright State committed 13 errors and had just two aces.
Wright State (1-3) jumped out of the gates quickly and took a 9-5 lead in the opening set, before Austin Peay called its first timeout. The Lady Govs would score 10 of the next 12 points, including three straight points via Hernandez service aces, to build a 15-11 lead. Austin Peay would win the set, 25-20, courtesy another Hernandez service ace on set point.
The second set was fought closely early on with the teams exchanging the lead four times. Wright State would break the set open with eight straight points, turning a 12-11 deficit into an 18-12 lead and they would not be challenged the set's remainder, winning 25-21.
Austin Peay controlled the third set wire-to-wire, building an early four-point (9-5) lead. That lead would reach 10 points, 20-10, as the Lady Govs steadily extended their advantage despite scoring no more than three consecutive points. Wright State would fend off set point four times before a Hernandez kill handed Austin Peay a 25-17 win.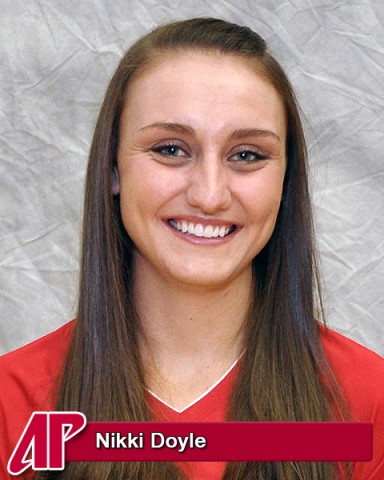 The two teams fought tooth-and-nail in the fourth set, exchanging the lead nine times and settling on tied scores 16 times. The Lady Govs' largest lead was three points while the Raiders' largest advantage was two points. Austin Peay got to match point first, 24-23, but Wright State scored consecutive points to reach its own set point, 25-24. The Raiders would surrender that set point on a service error but immediately forced another set point after Shauda Sandifer's kill.
The Lady Govs fended that second set point off courtesy a kill by sophomore Nikki Doyle and turned the tide courtesy a setting error to earn its second match-point opportunity. Wright State staved off the second and third match points, but could not fend off a fourth match-point against it. Austin Peay got that fourth opportunity with the score at 29-28 and finally got the point it was looking for on Doyle's ninth kill of the frame, ending the affair with a 30-28 fourth-set win.
"The first match was ugly but it was a 'W'," said Janicek. "We have to be able to sustain our offensive effort throughout the match. It is unlike us to go out and not play Austin Peay volleyball. We didn't play consistently in the first match today."
Janicek would feel better about her team's performance against DePaul (0-3), despite the Lady Govs recording a season-low .164 attack percentage. Austin Peay showed improvement in its service game, recording six aces against nine errors, and in blocking with 10 team blocks and six players recording a block.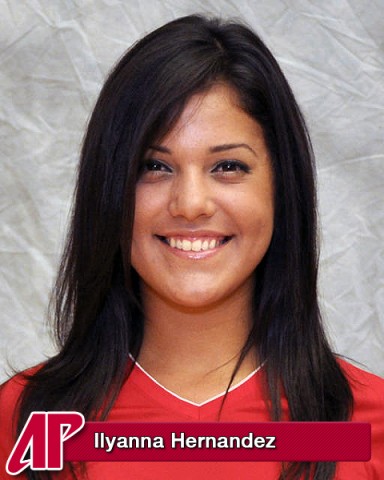 "Between the matches the team talked about their performance and they made the necessary changes," said Janicek. "The only thing I can ask of them is to go out and get one percent better each time they step on the court and we did that in the afternoon. While it didn't show up in our offense, I believe our blocking and serving were much better against DePaul."
The Lady Govs led 11-6 in the opening set but watched the Blue Demons slowly reel them back in and tie the set, 20-20. Austin Peay used a pair of DePaul attack errors to take another three-point lead at 23-20 only to surrender that lead as DePaul recorded three straight kills, tying the set, 23-23. The Lady Govs got consecutive kills from senior middle blocker Jessica Mollman and junior setter Marie Mullins to win the set, 25-23.
Austin Peay did not allow a DePaul come-from-behind effort in the second set, using an 8-2 run to grab a 15-7 lead. The Lady Govs pushed that lead to 10 points, 22-12, before wrapping up the set with a 25-16 victory.
DePaul came out of the break and controlled the large portion of the third set. The Blue Demons only allowed three ties in the set, the final one at 19-19 before scoring six of the set's final seven points to win, 25-20.
The Lady Govs fell behind, 3-0, early in the fourth set but rallied back to tie the affair, 6-6. The teams traded points through 11-11 before the Lady Govs used a 9-1 run to take a 20-12 lead, and they would take that lead all the way to a 25-18 match-ending victory.
Austin Peay concludes its stay at the IUPUI Hampton Inn Invitational with a 11:30 a.m. (CDT), Sunday contest against host IUPUI.