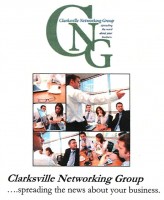 The Clarksville Networking Group is looking for new members. If your interested in networking with other business professionals, be sure to stop by and visit one of our meetings.
The Clarksville Networking Group meets on the 1st and 3rd Tuesday of each month at the Riverview Inn. The next meeting on Tuesday September 6th, 2010. Be sure to refer or bring a friend and see what the Clarksville Networking Group is all about.
We are set up on a Sphere system We have one person from a particular type business. We help spread the news about your business one referral at a time. Click here for more information about the various spheres.

What you need to know
Location: Riverview Inn – 50 College St. Clarksville, TN 37040
Time: Networking: 8:00am – 8:30am Meeting: 8:30am – 9:30 am
Website: www.ClarksvilleNetworkingGroup.net
Facebook: Clarksville Networking Group
Great group of people you will look forward to networking with day in and day out. Be sure to contact any member of the Clarksville Networking Group with questions you may have like – Will your business qualify to join ? We look forward to meeting you soon.
For more information contact David Baggett via email at or by phone at (931) 801-0865