A man down on his luck, homeless, and trying to get enough money to move himself and his mother to another city took matters in his own hands and robbed a bank. 
Vincent John Puccia entered Legends Bank, 1950 Madison Street, around 2:25pm today, walked up to one of the clerks, passed a note to a teller to give him money, and lifted his shirt to show the teller a gun; he never pointed the gun at the tellers. Also, there was one other customer in the bank at the time. Once the teller gave him the money, he left the bank and entered a cab, which he had called for prior to the robbery, and fled from the scene.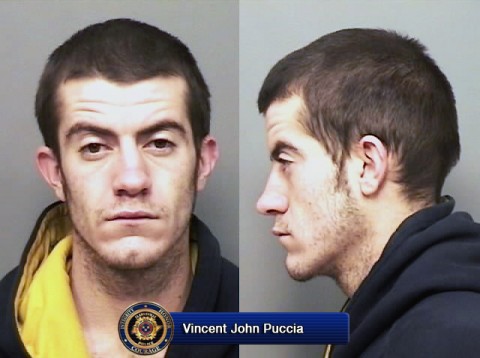 When officers responded to the area, witnesses told them they saw a subject run from the bank and get into a cab. A description of the suspect was sent out over the airways and the cab company was called to try and pinpoint the robber's destination.
With the assistance of the cab company, officers were able to determine Puccia was headed to a Riverside Drive business. But, the cab driver had to drop off another fare at a different location prior to taking Puccia to Riverside Drive; the other fare was not involved in the robbery. 
Additionally, prior to Puccia's arrival at Riverside Drive, he paid the cab driver the $15.00 fare out of his own money and not the stolen money. Officers were waiting for the cab on Riverside Drive. When Puccia saw the officers, he bailed out of the cab, but was quickly caught after being, corralled by multiple officer and was taken into custody after a short foot chase.
A BB gun which resembled a real firearm was recovered at the scene as well as all of the stolen money.  
Vincent Puccia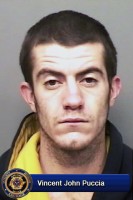 Vincent John Puccia, (W/M)
DOB: 2/27/85
Given Address: Homeless was booked into Montgomery Jail
Charged with: Aggravated Robbery and was served with an outstanding warrant for Petition to Revoke. 
BOND: $27,500.
The lead investigator is Detective Tina Slaven, 931-648-0656, ext 3008.