On September 9th, 2010, around 8:48am, the 911 center received a call from Carrie Kimmerer. Kimmerer advised that she received a call from her son, Gary Nations. He stated that he thought that he had killed his wife during an argument at 26 Bunker Hill Road. Kimmerer requested that officers be sent to check on Gary's wife.
Officers from the Clarksville Police Department responded to 26 Bunker Hill Road, where they found a deceased female lying on the floor inside the residence. The female was identified as Jennifer Renee Nations,( W/F, DOB: 12/6/80, Given Address: 26 Bunker Hill, Clarksville, TN); she was Gary Nations wife. While at the residence, Gary Nations stated to officers that he should have called last night.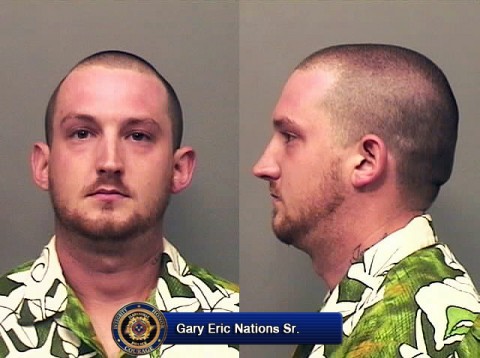 When Detective Anderson talked to Carrie Kimmerer, she stated that her son Gary called her this morning and told her that he thought he killed Jennifer during an argument last night.
She stated that Gary told her they had an argument and he strangled Jennifer.
Gary Nations Sr
Gary Eric Nations Sr. (W/M)
DOB: 2/4/83
Given Address: 26 Bunker Hill Rd, Clarksville, TN
Booked: Into Montgomery County Jail
Charged with: Criminal Homicide and was served with a warrant for Domestic Assault. 
Bond: He is being held without bond.
The lead investigator is Detective Tim Anderson, 931-648-0656.