Written by U.S. Air Force Capt. Peter Shinn
Kunar Agribusiness Development Team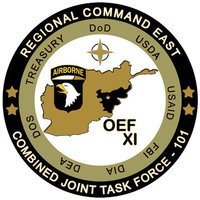 Kunar Province, Afghanistan – On a late August day outside Forward Operating Base Wright, U.S. Army Sgt. 1st Class Melissa Brumley helped load a slightly scuffed Toyota Corolla with boxes of clothing for the families of war widows and school supplies for the Fatima Girls School in nearby Asadabad, the provincial capital of Kunar Province in eastern Afghanistan.
Brumley, of Stewart, IA, is the noncommissioned officer in charge of administration for the Iowa National Guard's 734th Agribusiness Development Team.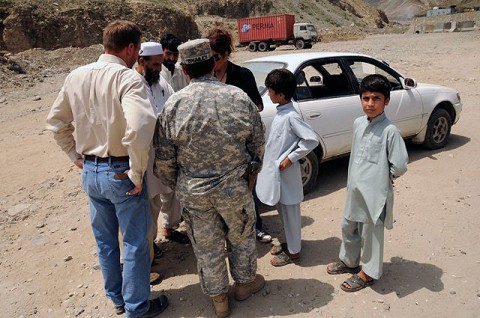 "We know the rate of literacy among women and girls in this province is very low, and we also know educating women is important to long-term development here," Brumley said. "Honestly, it's a joy to help in this way." The Iowa ADT is part of Task Force Bastogne. The ADT's primary mission is to improve food security in Kunar Province by building the capacity of the Government of the Islamic Republic of Afghanistan to deliver agricultural services. That means the ADT works with local and provincial agricultural officials, as well as with individual Afghan farmers and livestock producers.
But agriculture is not the ADT's sole focus. The ADT is also working closely with the Kunar Province Department of Women's Affairs. Naseema Shfiq Sadat, a graduate of a European university who has lived most of her life in Kunar, heads the Women's Affairs Department. She is also the director of the Fatima Girls School. Sadat's focus in both capacities has been on providing for widows and their families and ensuring schoolgirls have the materials necessary to get a quality education.
"My staff and I were pleased to present clothes and supplies to widows' families and children at the Fatima Girls School," said Sadat. "We're very grateful to the ADT and all the American families who donated materials to this cause."
The Iowa ADT receives school supplies and clothing from a number of private charitable groups in the United States, said U.S. Army Maj. Mary Parmenter, of Perry, IA. Parmenter, operations officer for the Iowa ADT, manages the effort to channel that materiel through the Women's Affairs Department to the Afghan citizens who need it the most.
"We have a number of American organizations that are providing us with school supplies, clothing, shoes, hats, coats and gloves," Parmenter said. "Director Sadat has been instrumental in helping us narrow the focus of this effort and ensuring these much-needed items get to widows and schoolgirls."
After 30 years of war, Parmenter noted, there are a large number of widows in the province, most of whom have families to support. Like Brumley, Parmenter also pointed out the critical importance of increasing literacy rates among Afghan girls and women. Parmenter pointed to Sadat as the lynchpin of the efforts on both fronts in Kunar. She also praised Sadat's personal courage.
"Director Sadat is the most prominent woman in the Kunar provincial government," Parmenter said. "In this society, which is extremely male dominated, that takes a lot of guts."