APSU Women's Cross Country

Freshman Xiamar Richards finished in 19th place to lead Austin Peay State University women's cross country team to a sixth-place finish at the two-mile PowerAde Invitational hosted by Chattanooga, Friday night, at Moccasin Bend Race Course.
The Lady Govs finished with 153 points in the eight-team field. Host Chattanooga won its season-opening event with 41 points, just edging second-place Middle Tennessee which posted 43 points.
Richards, a Clarksville High School graduate, finished the two-mile course in 12:31, an APSU record for a freshman at that distance. Kennesaw State's Mackenzie Howe won the individual crown with a time of 11:01.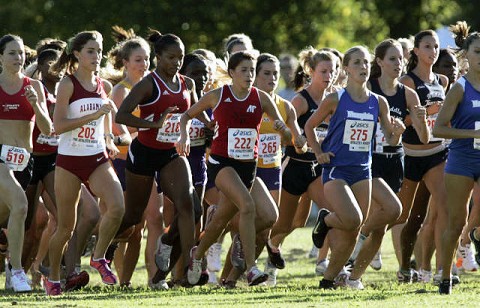 The Lady Govs top four runners were all scored within 14 spots of each other, but their fifth-place runner was another 14 spots behind the pace. Junior Janelle Avery was second on the team – and 28th overall – with a time of 12:31. Freshmen Kendra Kirksey (12:45) and Miranda Week (12:47) were 33rd and 35th overall.
Rounding out Austin Peay's effort were junior Alyssa Molnar (59th, 14:52), freshman Megan Barbarotto (67th, 15:39) and freshman Shannon Christian (67th, 15:39).
"Xiamar ran a freshman record to lead us today and our freshmen had a strong race," said APSU cross country head coach Doug Molnar. "However, we will have to find someone to step up and run a strong fifth for us. Until that happens, it will be our Achilles Heel in bigger meets. That said, we have two or three freshmen surrounding our team MVP from last season and that's a good place to start."
The Lady Govs next compete at the Old Timer Classic, hosted by Western Kentucky, Saturday, September 18th.