New menu concepts, promotions, and guest services for the 2010 NFL Season in Tennessee
Stamford, CT – Centerplate, the largest hospitality partner to North America's premier sports stadiums, convention centers and entertainment venues, including the Tennessee Titans, announced a series of new menu concepts, service improvements and special fan promotions for the 2010 National Football League Season at LP Field, along with its nine other NFL partner venues.
Last season, Centerplate hosted more premier NFL events than any other hospitality company, including the NFL Divisional Playoffs, NFL Conference Championships, Pro Bowl 2010 and Super Bowl XLIV. The company opens the new season with exciting menus, new fan promotions, and customer service programs.
Menu Highlights
Fans will have several new concessions items to enjoy this season. Centerplate will introduce a new take on a tailgate favorite–the Walking Taco. Perfected by the company's chefs, the tasty snack features ground beef, fresh lettuce, tomatoes, onions, and jalapenos served directly in an actual Doritos bag for easy in-seat enjoyment.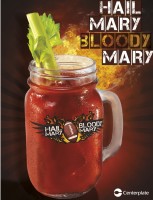 Another classic football fan favorite receiving the Centerplate touch is the Bloody Mary. This season, Centerplate will be offering the 'Hail Mary Bloody Mary' served in a souvenir mason jar mug. The company will also be expanding its smoothie program, which it tested to great success last season, consisting of fresh-blended juice smoothies; and mixed beverages offered in collectible cups.
These new items join signature dishes back for the new season, including the Tennessee fan favorite BBQ Nachos: a heaping helping of crisp tortilla chips smothered in cheddar cheese and piled high with smoky southern pulled pork topped with a tangy sweet BBQ sauce.
Fan Appreciation and Special Promotions
Centerplate will be offering fan appreciation promotions like the "2 Point Conversion", a special offer of 2 regular hot dogs at a discount 'combo price' and specialty mixed drinks in color-changing souvenir "Mood Mix'R" glasses which change color based on how hot the action in the stadium is. In October, the company will also join the fight against breast cancer with specialty items for Breast Cancer Awareness Month.
Guest Services Enhancements
To complement its culinary offerings, the company has also initiated a series of enhancements to its service training and experience assurance initiatives. Centerplate's training program, which has been completely revamped and launched as Centerplate University for the 2010 season, is based on a series of training sessions that provides our service team the foundation to succeed. In addition to functional training, the program includes a significant focus on food safety, responsible service of alcohol, and the principles and behaviors of gracious guest service for a better fan experience.
Centerplate is also introducing an extremely detailed evaluation process that judges our performance across numerous key metrics that enables the firm to conduct consistent, in-depth audits of its key performance indicators. In combination with the company's quantitative Fan Tracking Study–regular, frequent, patron satisfaction and opinion surveys–the program provides instant win and grand prizes for fan participation to capture the voice of the fan directly.
"We are thrilled to welcome this year's NFL Season," said George Wooten, Centerplate's Executive Vice President of Operations. "Between our new menu offerings, impressive service upgrades and ambitious menu additions, Centerplate is ready to bring fans an extraordinary football experience while expanding upon our goal to serve as a total solution partner to our team clients."
Centerplate's new 2010 NFL Season initiatives follow other recent company news, including the addition of several new client-partners such as the Woodruff Arts Center, one of the nation's most prestigious art centers, in Atlanta, Georgia, the Cobo Conference/Exhibition Center, the storied 2.4 million square foot facility in the heart of downtown Detroit, and the Niagara Convention and Civic Centre, a new convention facility opening located in Niagara Falls, Ontario. This year has proven to be one of the company's strongest ever in new business development and client retention in its eighty-year history.
About Centerplate
Centerplate crafts and delivers "Craveable Experiences. Raveable Results." in 250 prominent sports, entertainment and convention venues across North America. Centerplate provides its services to ten NFL stadiums; Candlestick Park (San Francisco 49ers), FedEx Field (Washington Redskins), Hubert H. Humphrey Metrodome (Minnesota Vikings), INVESCO Field at Mile High (Denver Broncos), the Louisiana Superdome (New Orleans Saints), LP Field (Tennessee Titans), Lucas Oil Stadium (Indianapolis Colts), Qualcomm Stadium (San Diego Chargers), Raymond James Stadium (Tampa Bay Buccaneers), and Sun Life Stadium (Miami Dolphins).
Centerplate has provided services to 12 Super Bowls, 19 World Series, key events for the Democratic and Republican National Conventions, the South Beach Wine and Food Festival, Art Basel Miami Beach, 15 official U.S. Presidential Inaugural Balls and the largest plated dinner in history at the Alpha Kappa Alpha Centennial Celebration. Visit the company online at www.centerplate.com.