Written by U.S. Air Force Capt. Peter Shinn
734th Agri-Business Development Team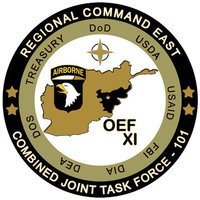 Kunar Province, Afghanistan – Soldiers, Airmen, Sailors and civilians of the Kunar Provincial Reconstruction Team and the Iowa National Guard's 734th Agri-Business Development Team held a solemn ceremony here to commemorate Patriot Day and the ninth anniversary of the 9/11 terrorist attacks on New York City's Twin Towers, the Pentagon and those lost in Shanksville, PA. The ceremony started at exactly 8:47am Eastern time, the same time the attacks began in 2001.
U.S. Navy Lt. Cmdr. Sean Gillespie, of Norfolk, VA, the PRT's senior engineer, raised and lowered the PRT's flag to half-mast. Afterward, the assembled military members and civilians bowed their heads for a moment of silence and a brief prayer before quietly returning to duty.
U.S. Air Force Chaplain (Capt.) James Anderson of Eagle River, Alaska, offered the ceremony's closing prayer. He also organized the commemoration.
"We held this ceremony to recognize the patriots and the sacrifice that has been given since 9/11 of 2001 for the freedom and liberty of freedom-loving people around the world," Anderson said.
For Gillespie, the ceremony evoked memories of September 11th, 2001. It also caused him to reflect on all that has passed since then.
"I was aboard ship on 9/11, and we were underway in three-and-a-half hours after the attacks, much more quickly than we had ever been able to before," Gillespie said. "I worked with heroes on 9/11, and I've been working with a team of heroes ever since."
U.S. Army Sgt. Maj. Robert Reedy, of Ankey, Iowa, the senior enlisted member of the Kunar ADT, attended the ceremony. He described the commemoration as a triumph of American values over terrorism.
"This ceremony bears witness to the strength and resolve of the American spirit," said Reedy. "Today, we honor those who made the ultimate sacrifice in the cause of freedom."