APSU Women's Volleyball

Clarksville, TN – Sophomore Nikki Doyle recorded a career-high 23 kills to lead Austin Peay State University women's volleyball team to a 3-1 (27-25, 25-13, 23-25, 25-22) Ohio Valley Conference victory against Murray State, Friday night, at the Dunn Center.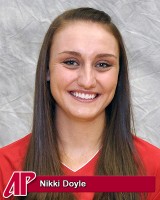 Austin Peay (10-1, 1-0 OVC), which won its 10th consecutive match, won its home and conference opener courtesy a 67-kill performance – two shy of the team's season high – and a .241 attack percentage.
The first set was a combination of scoring runs by each team. Austin Peay (10-1, 1-0 OVC) opened with a 7-3 run as Doyle recorded three kills and senior Jessica Mollman added two kills. Murray State answered with a 10-6 run sparked by three Ashley Nenninger kills. The Racers later used a 9-3 run to build a 22-18 advantage as five different hitters recorded a kill during the burst. Austin Peay fought back, using consecutive kills by junior Ilyanna Hernandez to force a 23-23 tie. After trading points to get to 25-25, the Lady Govs got consecutive kills from Hernandez and Mollman to seal the set, 27-25.
The Lady Govs led the second set wire-to-wire, opening with three consecutive points to start an 11-3 run. The lead reached double digits, 17-6, after another three-point run. Austin Peay traded points from there to post the 25-13 set win and take a 2-0 set lead.
Murray State (3-8, 0-1) won the third set after trailing until taking a 20-19 lead. The Lady Govs broke out of the gate with a 9-4 run and seemed poised to run away from Racers but an 8-3 Murray State run tied the set, 12-12. Austin Peay used three straight points to take a 19-16 lead and force a Murray State timeout. The Racers responded to the time out with five consecutive points to take their first lead. Austin Peay would get as close as 24-23, but a Logan Su kill ended the threat, Murray State winning the set 25-23.
The Lady Govs found themselves trailing by five points, 10-5, early in the fourth set. However, they pieced together a 8-2 run – as senior Taylor Skinner scored a kill and service ace while junior Kayla Grantham added a pair of kills – to take a 13-12 lead. From there neither team enjoyed more than a one-point advantage. It took four consecutive kills – by junior Marie Mullins, Doyle, Mollman and Doyle in succession, for the Lady Govs to pull out the match-ending 25-22 set victory.
Doyle's match-best 23-kill outing included seven kills in both the first and third sets. Hernandez chipped in 15 kills and Mollman added 12 kills. Austin Peay also added eight service aces, junior Paige Economos registering four aces.
Nenninger came off the bench to lead Murray State with 16 kills. Su finished with 12 kills but committed eight attack errors.
Austin Peay continues its brief two-match homestand when it hosts UT Martin in a 2:00pm, Saturday contest.