Written by U.S. Army Capt. Shawn Naigle
603rd Aviation Support Battalion, Task Force Workhorse 3rd Combat Aviation Brigade, Task Force Falcon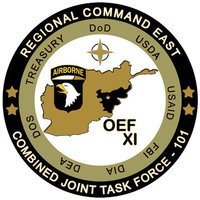 Bagram Airfield, Afghanistan – Every maintenance unit across the 3rd Combat Aviation Brigade, Task Force Falcon, has the unique mission of recovering aircraft and putting them back in the fight as soon as possible. 
However, when the recovery mission or battle damage exceeds the capabilities of the line unit, the duty falls on Task Force Workhorse, 3rd CAB, TF Falcon.
The Soldiers of Company B, TF Workhorse, quickly developed a reputation for completing those complex missions.
Since their arrival in theater almost a year ago, B Co., TF Workhorse, known as the "Killer Bees," have returned six aircraft back to battle. Their latest focus is repairing a bullet-riddled medical evacuation Black Hawk helicopter from another task force within TF Falcon.
"When we can't remember the tail number, we just call it 'Swiss cheese'," said U.S. Army Sgt. Ryan Gillette, a Black Hawk mechanic with B Co., TF Workhorse, from Towanda, PA "The day it arrived, we crawled all around it to see how many holes we could find to determine what had to be removed."
Gillette, having just received the aircraft a few days prior, is responsible for overseeing the aircraft maintenance and assisting the aircraft structural repair shop until all the repairs are complete.
The sheet metal repair falls squarely on the shop's aircraft structural repair section. At times, their job becomes complicated as damage varies from aircraft to aircraft. For "Swiss cheese," the repairs required a little more preparation.
"The damage underneath the fuel cell on the number one side is the most challenging because of the area we're working in," said U.S. Army Sgt. Marcus Moore, an aircraft structural repair technician, with B Co., TF Workhorse, from Newark, NJ "Trying to work around the fuel cell wall makes it a tight fit. It's a pretty complex repair as well. One bullet caused three areas of damage and each area has to be repaired in sequence."
Not only does the company perform battle damage repair, but a recovery team is responsible for transporting downed aircraft that are unable to be flown. The most recent event occurred at the end of July when a Chinook helicopter experienced an engine failure and had a hard landing. The aircraft was too heavy for another Chinook to lift, so the team, comprised of mechanics, worked to dismantle the aircraft and have components flown out.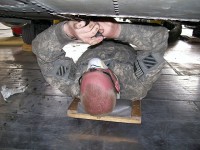 The downed aircraft recovery team plays a critical role in brigade operations. Having been a part of multiple full-scale recovery missions, U.S. Army Lt. Col. Woodard "Buddy" Hopkins, TF Workhorse commander, from Fairfax, VA, said he recognizes the importance of maintaining an experienced recovery team.
"It prevents the enemy from getting their hands on [the aircraft] and potentially winning a propaganda victory," said Hopkins. "Often, a recovered aircraft can be returned to the fight faster than the brigade can receive a replacement from the states."
"Our mission is to work behind the scenes to keep the aircraft in the fight," said U.S. Army Maj. Heather Weigner, B Co. commander, TF Workhorse, from East Berlin, PA "We know that the faster we repair this [Black Hawk], the faster it'll be out saving lives. As for DART missions; no other unit in the brigade can do what we have done, and it feels good to get out there and do something challenging. I am immensely proud of the capabilities of the Soldiers in this unit. They provide unwavering, dedicated support to the brigade, no matter what the task."