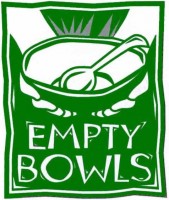 On the evening of October 2nd, Ken Shipley, professor in the ceramics area of the art department of Austin Peay State University, will be hosting a "Bowl-a-Thon" from 5:00pm to 11:59 pm in the ceramics area of the Trahern building. The purpose of the "Bowl-a-Thon" is to produce a number of bowls for the third annual "Empty Bowls" fundraiser.
The project, in conjunction with artists and art organizations, produce the bowls, which are donated to Empty Bowls Clarksville for their annual fundraiser to be held on February 22, 2011. Participants are welcome to come the full duration, or for as much as they are capable, with any attendance thoroughly appreciated.  Those persons attending who are not capable of "throwing" the bowls will be taught handmade methods on site. Please join us for a fun evening, for a great cause.
About Empty Bowls
Empty Bowls is a wonderful "grassroots" movement growing around the country with the mission of feeding the hungry, disadvantaged and homeless. The effort is based on the international Empty Bowls program, where volunteers create bowls that are used to serve a meal of soup and bread during a fundraiser. The bowls serve as a reminder that there are always empty bowls in the world.
Empty Bowls Clarksville is a community project that supports three non-profit organizations in the Clarksville Area. United Methodist Urban Ministries, Grace Assistance Food Bank, Loaves and Fishes, and the FUEL program all benefit from the annual Empty Bowls event in Clarksville. We are committed to raising awareness of the issue of hunger in the Clarksville-Montgomery County community. This goal is achieved through our annual fundraising event that supports local food and hunger programs.
Sections
Events
Topics
APSU Department of Art, Austin Peay State University, Empty Bowls, Loaves and Fishes, Project F.U.E.L.