The weekly Clarksville Parks and Recreation Department Recreation Report provides Clarksvillians with a glimpse at the activities and events that are available from the Parks and Recreation Department for them to enjoy together as a family.
This weeks highlights include:
Billy Dunlop Park
Toddlers in Action
Jammin' in the Alley
Step program
Sleep under the Stars
Learn to Hula
Bark in the Park
Kleeman Haunted Mansion
Fright on Franklin
Billy Dunlop Park will close to the public at 5pm on October 1st. The park will reopen to the public at dawn the following day
Toddlers in Action
Looking for a way to stimulate your toddlers learning while allowing them to interact with other toddlers? Kleeman Community Center offers a Toddlers in Action class that will meet every Thursday from 10-11am beginning October 7th. This class is open to toddlers ages 2-4. The cost is $3 per class or $15 for the entire six week session.
Jammin' in the Alley- featuring Diana Pelham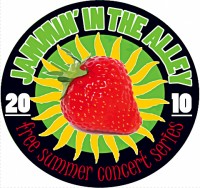 The City of Clarksville together with U.S. Bank will soon be Jammin' in Strawberry Alley one last time this season. Join us on Friday, October 15 for yet another night of music and dancing!
This month's free concert features soulful, country artist, Diana Pelham. The concert begins at 7 pm, come ready to eat, dance and have fun!
Be Healthy, Let's Step
Step your way to healthy! This after school program is offered Tuesdays from 4:30-5:30pm at the Burt Cobb Community Center located at 1011 Franklin Street for those ages 9-18. FREE! Community Center I.D. cards are required. Cost is $5 per year.
Sleep Under the Stars
Join us for a bonfire, archery, games, ghost stories and much more at our great family camp out, beginning Saturday October 16 at 2pm until Sunday, October 17 at 9am at Billy Dunlop Park. The cost is $5 per person and will include an afternoon and evening of games as well as a hot dog dinner. Breakfast will also be provided. Do you have more than 4 people in your family? Pay the family rate- just $20! Families will need to provide their own tent and sleeping materials. Children must be accompanied by an adult the entire campout. Don't miss out, pre-register by October 8, 2010!
Learn to Hula at the Crow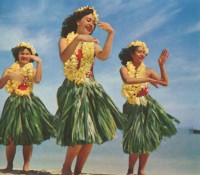 Adults and children can learn the unique traditional art of hula dancing for FREE! Classes meet Wednesdays from 5-8pm at the Crow Community Center located at 211 Richview Road.
Bark in the Park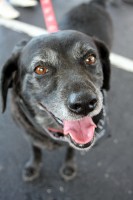 Bring your 4-legged family members for a day of contests, demonstrations, prizes and more at our Fall Bark Park event. The event will take place October 16th from 1-3pm at the Bark Park located at Heritage Park.
Kleeman Haunted Mansion
C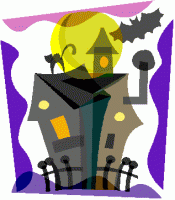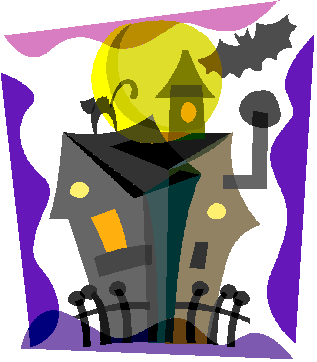 ome for a night of fun and frights at the Kleeman Community Center located at 166 Cunningham Lane. The haunting is October 22 & 23 from 7-10pm. Cost is $2 for adults (Ages 18 and up) and $1 for children (Ages 6-17).
Fright on Franklin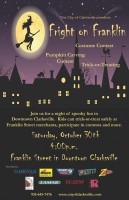 The 2nd Annual Fright on Franklin, presented by Planter's Bank, will once again offer safe trick-or-treating. Local businesses will line Franklin Street in Downtown Clarksville on Saturday, October 30 to pass out candy. Fright on Franklin activities will begin at 4pm with a Costume Contest kicking off at 5pm. The Costume Contest is open to all ages. Participants can register October 30, from 4-4:30pm at the Parks & Rec's main office or downtown on Franklin Street. Admission is free. If your business would like to participate and receive a FREE booth, please call 931-645-7476 for more information!
About Parks and Recreation
The Clarksville Parks and Rec Report and Parks Department press releases is written by Candice Tillman,  the Supervisor of Marketing & Public Relations for the City of Clarksville Department of Parks & Recreation.

Web Site: http://www.cityofclarksville.com/parks%26rec/
Email:
Sections
Arts and Leisure
Topics
"Jammin in the Alley", Bark in the Park, Billy Dunlop park, Clarksville Department of Parks and Recreation, Clarksville-Montgomery County Humane Society, Fright on Franklin, Kleeman Haunted Mansion, Parks and Rec Report, Sleep under the Stars, Toddlers in Action