Clarksville, TN – As Clarksville continues to grow, there is a new retail development that could soon become a reality along Tiny Town Road at Peachers Mill Road.  The Tiny Town Road Growth brings a Proposed New Retail Development and Upscale Supermarket along with other retail shops and restaurant space. There are other out parcel lots that will be available as well.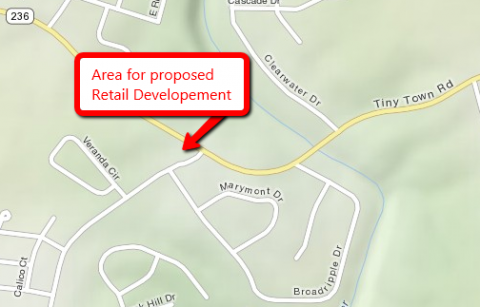 This will be good for Clarksville's growth. The area is about midway between Exit 1 and Fort Campbell. Peachers Mill Road recently opened as a five lane highway between Tiny Town Road and the 101st Airborne Parkway.
The upscale grocery anchored shopping center is in one of the fastest growing areas of Clarksville. There are three elementary schools within a mile of the location and the population in a three mile radius is 27,368 (2008).
It has not been disclosed as to what supermarket will be the anchor store in this proposed retail development along Tiny Town Road and Peachers Mill Road. The sign on the property shows the Barclay Group from Phoenix, AZ will be working on this project.