Fort Campbell, KY – Campbell Crossing will again host the annual Post Wide Yard Sale on Saturday, October 2nd beginning at 7:00am.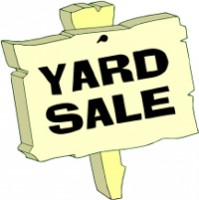 All on-post residents are invited to participate and most do so by selling items or shopping in the neighborhoods scattered with deals throughout post. Hundreds of visitors from off-post also visit to hunt through the wide variety of treasures available. Many families preparing to move from Fort Campbell take advantage of this opportunity to sell everything from baby clothes, to furniture, to motorcycles.
Holding a post wide yard sale is a huge advantage for Campbell Crossing residents. There is no need for residents to advertise for an individual yard sale and hundreds of people flock to post from the surrounding areas to participate in one large one.
Off-post residents attending the yard sale should enter through Gate 4 and pick up a visitors pass. Visitors must provide a valid drivers license, vehicle registration and proof of insurance to obtain a pass.
A list of all homes and what they are selling will be available on the Campbell Crossing website www.campbellcrossingllc.com beginning Friday October 1st.
The Post Wide Yard Sale is a rain or shine event.  For more information on the post-wide yard sale, please call 931-431-2311
About Campbell Crossing

Campbell Crossing LLC (CC) is a 50-year partnership created between the Department of the Army and Actus Lend Lease through the Military Housing Privatization Initiative (MHPI). Since December 2003, CC has developed more than 1,000 new homes and renovated more than 2,000 homes, and will continue to finance, develop, build, renovate and operate the site for 50 years.
About Actus Lend Lease
With more than 40,000 homes in its portfolio, Actus Lend Lease is the nation's leader in public/private community development. With a focus on creating sustainable value, Actus Lend Lease communities are unrivaled in their attention to design, technology and environmental sensitivity. 
Known for its innovative initiatives, Actus Lend Lease has developed some of the most sustainable communities throughout the military, including the two largest solar-powered communities in the U.S. at Army Hawaii and Davis-Monthan Air Force Base, New York State's largest energy-efficient community development at Fort Drum Mountain Community Homes and the largest LEED Silver-certified community in the state of Texas at Fort Hood.
Actus was also chosen as the Department of Energy's partner to launch Operation Change Out, an initiative geared at replacing all incandescent light bulbs with the more energy-efficient CFLs on all military installations. Actus has garnered many national awards for its sustainable initiatives, including the 2009 Department of Energy Excellence in Energy Star Promotions Award. For more information, visit actuslendlease.com.