October through December Worst Time for Deer-Related Crashes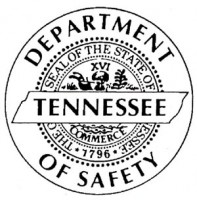 Nashville, TN – Autumn marks the start of deer mating season. As a result, the Tennessee Department of Safety cautions that an increase in deer-related crashes is likely during the months of October through December. Motorists are encouraged to be watchful of deer on the move during these months.
"Motorists should always be aware of the likelihood of deer traveling on or around the roadways, no matter what time of year," said THP Colonel Tracy Trott. "However, it is particularly important to pay attention and stay alert, especially on roads less traveled, during hunting and mating season."
Motorists should exercise extra caution when not traveling on a major thoroughfare. Between 2005 and 2009, less than 10 percent of deer-related crashes occurred on interstate highways.  November – the start of deer-hunting season – is the worst month for deer-related crashes.

In 2009, there were 5,247 deer-related crashes, including 268 that involved injuries and one that was fatal. That was up by almost two percent from 5,157 the previous year. However, since 2005, deer-related crashes in Tennessee have risen over 8.5 percent. 

Additionally, State Farm®, the nation's leading auto insurer, estimates 2.3 million collisions between deer and vehicles occurred in the U.S. between July 1st, 2008 and June 30th, 2010. That's 21.1 percent more than five years earlier. 

The Department of Safety and the Tennessee Wildlife Resources Agency has the following tips to help prevent deer-related crashes during peak mating and hunting seasons:
Remember that mating season puts deer on the move and deer teen to move at dawn and dusk.
Whenever you see deer cross the road, expect more to follow. Many times, the second or third deer crossing becomes the one that motorists hit.
Be attentive; drive defensively, constantly scanning the roadside, especially at daybreak and dusk.
When you spot a deer, slow down immediately. Proceed slowly until you pass that point.
If you do collide with a deer, never approach the injured animal. They are powerful and can cause bodily harm to a human.  Report any deer collision, even if the damage is minor.
Tennessee law allows deer killed in a collision to be taken and used as food, as long as you contact the nearest TWRA regional office to report the accident within 48 hours.
Attached are statistics for deer-related crashes in Tennessee from 2005 – 2009.  Additional data regarding deer-related crashes can be found at:
http://www.tennessee.gov/safety/stats/CrashData/CrshByAnmlCnty&Yr0408.pdf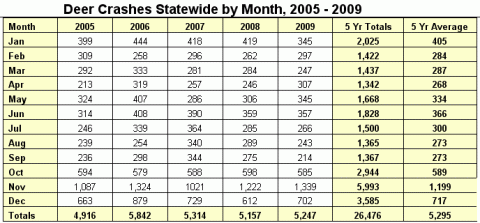 The Tennessee Department of Safety's mission is (www.TN.Gov/safety) to ensure the safety and general welfare of the public.  The department encompasses the Tennessee Highway  Patrol, Office of Homeland Security and Driver License Services. General areas of responsibility include law enforcement, safety education, motorist services and terrorism prevention.
Sections
News
Topics
Deer Related Crashes, State Farm, Tennessee Department of Safety, Tennessee Highway Patrol, Tennessee Wildlife Resources Agency, THP