APSU Women's Volleyball

Clarksville, TN – Playing its third consecutive five-set match, Austin Peay State University's volleyball team handed Ohio Valley Conference leading Morehead State its first league loss, 3-2 (20-25, 25-16, 23-25, 25-16, 15-9), Friday night at the Dunn Center.

Trailing 2-1 entering the fourth set, Austin Peay (16-4, 7-2 OVC) saw its offense respond with errorless efforts in both the fourth and fifth sets. The Lady Govs recorded 14 kills and a .412 attack percentage in the fourth set. They followed that with nine kills and a match-best .474 attack percentage in the fifth set.

After watching Morehead State (14-7, 8-1 OVC) use a 9-3 run to turn the third set in its favor, Austin Peay rebounded in the fourth set with an early scoring burst of its own to get out front. The Lady Govs scored five consecutive points that allowed the Lady Govs to jump out to a 6-2 lead. The Eagles would get no closer than that four point deficit the set's remainder.

Both teams exchanged points early in the fifth set, the Lady Govs building a small 5-3 cushion with a kill by junior Kayla Grantham and a service ace by junior Paige Economos. But it was a run of three-straight points, including kills by senior Jessica Mollman and sophomore Nikki Doyle that allowed APSU to gain a four-point advantage, 8-4.

Morehead State would close to within one courtesy its own 3-0 run, but Mollman ended the run with a kill. Another three straight points by the Lady Govs later in the set put the match safely into the Lady Govs column.

Morehead State gained its 2-1 advantage by out-hitting Austin Peay in the first and third sets. The Eagles scored 15 kills and a .286 attack percentage in the opening set as they recovered from a 13-8 deficit by ending the set with a 15-7 run to take a 25-20 lead.

Austin Peay's defense earned it the second set win, forcing Morehead State into as many attack errors (nine) as it had kills (nine). Meanwhile, the Lady Govs offense pounded out 13 kills and a .243 attack percentage.

The third set saw both teams trade runs, Morehead State leading 10-7 before the Austin Peay turned the tables to take a 14-11 lead. But the Eagles used that 9-3 run at that point to take a 20-17 advantage which they would not relinquish.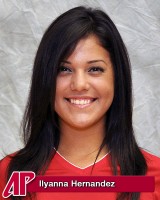 Junior Ilyanna Hernandez led the Lady Govs with 15 kills – one of four APSU hitters to record more than 10 kills. Doyle chipped in 14 kills while Mollman added 12 kills and junior Kayla Grantham finished with 10 kills.
Austin Peay needed just 59 kills to pick up the victory, but scored 12 service aces and added eight blocks.
Morehead State senior Holly Evans led all hitters 23 kills, more than a third of her team's 63-kill outing. The Eagles could not keep pace with the Lady Govs service performance, recording just three aces, but held their own with eight blocks.
Austin Peay will have little time to savor the victory as it hosts Eastern Kentucky in a 2:00pm, Saturday contest at the Dunn Center. Admission is free to all fans.
Sections
Sports
Topics
APSU, APSU Women's Volleyball, Austin Peay State University, Dunn Center, Eagles, Eastern Kentucky, Holly Evans, Ilyanna Hernandez, Jessica Mollman, Kayla Gratham, Lady Govs, Morehead State, Nikki doyle, Ohio Valley Conference, OVC, Paige Economos