Teens Are Conflicted; State Farm Survey Shows 70% of New Drivers Are Nervous About Being in a Crash or Hurting Someone; Yet 57% Say They Text While Driving
Bloomington, IL – Newly analyzed State Farm® claims data shows the trend continues – October remains the most dangerous month of the year for teen driver crashes. According to claims data spanning the last seven years, the highest number of injury or collision claims filed by 16- and 17-year-old drivers continues to hit a high point in October, spiking by about 15 percent when compared to other months of the year.
State Farm evaluated its extensive claims database from 2003 – 2009, and in every year, October continues to register the most claims across the United States and portions of Canada. At a state level, about 1 in 4 states show October as the most dangerous month of the year for teen crashes. About 70 percent of states show October as being among its top three months for teen accident claims.
"Car crashes remain the number one killer of teens and October continues to be our single biggest battleground month," said Laurette Stiles, Vice President of Strategic Resources at State Farm. "While promoting teen driver safety requires a year-round commitment, the fall time frame is critically important.
As teens return to school, attend homecoming and begin managing very busy schedules, we want them to keep safe driving practices at the top of their minds because our data shows this is one of the most dangerous times of year for teens to be on the road."
Teens Remain Conflicted
A recent State Farm survey by Harris Interactive shows that despite concerns about getting into an accident, most teen drivers still lack awareness about the true ramifications of dangerous driving practices. In the survey, of 14- to 17-year-olds who intend to have or already have a driver's license, 70 percent of teen drivers admitted to being nervous about being in a crash or hurting someone. But despite these concerns, 57 percent of teens admit to reading or sending text messages while driving.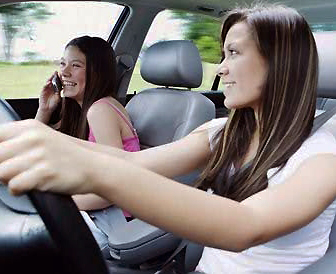 When we asked teens why their peers text while driving even though they know it is dangerous, the general response is that staying connected is more important than ever to Generation Y. "Kids my age want to stay in touch," said 17-year-old Danish Hasan of Algonquin, IL. "We like instant communication, and many kids worry what their friends will think if they don't answer text messages immediately." Danish nearly drove onto a sidewalk while sending a short text message, recovering control of the vehicle just in time to avoid hitting several pedestrians. Danish said this close-call taught him a lesson about how quickly one can become distracted, and now he's an advocate for putting the phone away while driving.
Parents can play a major role in closing the awareness gap with their teens. According to the survey, those teens whose parents frequently talked with them about safe driving practices have the clearest understanding of what represents risky driving behavior.
National Teen Driver Safety Week
Given the prevalence of teen car crashes in October, beginning in 2007, State Farm and The Children's Hospital of Philadelphia worked with Congress to designate the third week of October as National Teen Driver Safety Week. Having a dedicated week provides a unique opportunity to focus attention on this national problem.  The week serves as a time set aside for parents, teens, educators and legislators to shine a spotlight on teen driver safety and ramp up conversations about solutions for the high rate of car crashes involving teens.
Across the country this week, hundreds of State Farm agents and employees will be participating in teen driver safety activities in their local communities. State Farm and The Children's Hospital of Philadelphia have produced a social media announcement (SMA), "Not Now, I'm Driving," to help spread the world about teen driver safety and the importance of refraining from texting while driving.
For more information about teen driver safety and National Teen Driver Safety Week, please go to www.statefarm.com/teendriving.
About the Survey
For this State Farm survey, Harris Interactive conducted the survey within the United States on July 22nd-26th, 2010 among 697 U.S. 14- to 17-year-olds, including 694 who intend to have or already have a driver's license. Figures for age, sex, geographic region, and race/ethnicity were weighted where necessary to bring them into line with their actual proportions in the population.  The margin of error is +/- 3.7 percent.
About State Farm®
State Farm insures more cars and homes than any other insurer in the U.S., is the leading insurer of watercraft and is also a leading insurer in Canada. Our 17,800 agents and more than 68,000 employees serve 81 million policies and accounts – more than 79 million auto, fire, life and health policies in the United States and Canada, and nearly 2 million bank accounts. State Farm Mutual Automobile Insurance Company is the parent of the State Farm family of companies. State Farm is ranked No. 34 on the Fortune 500 list of largest companies. For more information, please visit www.statefarm.com® or in Canada www.statefarm.ca®.
Web Site: www.statefarm.com
Sections
News
Topics
Harris Interactive, National Teen Driver Safety Week, October, State Farm, Texting while driving