Having just attended the Alumni Art Show at APSU the week before, I was eager to learn what current faculty members in the Department of Art were working on this year. What I found was a diverse but interesting array of entries in the free show at the Trahern Gallery. Ranging from the massive and powerful sculpture of Olen Bryant to the thought-provoking statement art of Department Chair Gregg Schlanger to the intricate linocut of Jesse Shaw, I was pleasantly surprised at the offerings with which faculty members stimulate the minds of art students to provoke their creativity.
Keep in mind that I am not an art critic, merely an interested onlooker. As the wife of a sculptor whose work is found in private collections throughout the world, I have attended many art shows and have seen some incredible works of art. Following is a brief description of each art work (in no particular order) with my humble opinion in parenthesis after each:
Bettye Holt, ACEO: Variations on a Theme (Part A and B) 2010 mixed media – Two large frames surround Art Cards, Editions and Originals; Frame A has 15 of these delightful cards with owls as their theme; Frame B has 13 cards with an extra card explaining the origin of the cards. (delight to the eye!)
Cindy Marsh, Pages on the Book of Human Ecology 2010 letterpress construction – This entry appears as large pages of a book featuring grayed edges with both three-dimensional additions and appropriate words for each. The first page reveals a bird's nest at the top corner accompanying the following words of an ancient Chinese proverb, "You cannot prevent the birds of sadness from passing over your head, but…you can prevent them from making a nest in your hair." The second page has thorny branches and quotes from "The Holy Bible; Book of Genesis, 3:17-19," "Cursed is the ground for thy sake; in sorrow shalt thou eat of it all the days of thy life…till thou return unto the ground; for out of it wast thou taken; for dust thou art. Unto dust shalt thou return." (extremely thought provoking but too depressing to live with on a daily basis)
Suta Lee, Flags of Revolution 2010 oil on canvas – This large oil painting is a black and turquoise abstract featuring three flags with numerous representational heads surrounding them. (Stand well back from this to get the full effect and message; interesting concept)
Kell Black, Asparagus for Anne 2010 charcoal on paper – This drawing shows two stalks of asparagus with seeming shadows of each (well-executed and unusual subject)
Kell Black, Big Fish 2010 charcoal on paper – This large drawing is of a fish skeleton. (I'm particularly fond of fish drawings and liked this one especially.)
Gregg Schlanger, Mr. Peabody's Coal Train Revisited 2010 mixed media – A very complicated work of statement art, this scenario has many areas of composition. In the front are vases of plastic flowers, half-filled drink bottles, a collection of metal bottle caps, some bones, toy dirt movers, a toy dump truck, four American flags, some candles and some stock certificates. Just behind this is a large sign, "Clean Coal" that is before a raised toy train track with an engine pulling coal cars. In the back is a display of hanging metal fish in front of a video of smoke stacks. Below this area are what I think are dead metal fish in the water. (I believe the artist is pointing out the fact that "clean" and "coal" are polar opposites; or realizing that this artist has a great sense of humor, he may be revealing yet another aspect of the Emperor's New Clothes.)
Susan Bryant, New Mexico 2010 digital print – This is a black-and-white print of clouds over darkened hills. (art you'd love to live with)
Susan Bryant, Indiana 2010 digital print – A golden field with golden trees at its edge is crowned with teal clouds. (again, beautiful)
Susan Bryant, Butterfly 2010 ambrotype – In this small black-and-white picture, a woman in a t-shirt and pants holds her hands with thumbs connected and fingers outstretched as the wings. (different)
Jesse Shaw, American Funeral 2010 linocut – Multiple black-and-white images show aspects of what appears to be an accident or perhaps just a heart attack with the ER and hearts and the 911 operator and other parts of the process shown. (The amount of work in this spectacular piece is phenomenal. It is worth going to the show to see this piece if nothing else.)
Ben Vitualia, untitled 2010 mixed media – This work includes photography and wooden sculpture. The photograph shows a house with a sculpture of a little girl in the front yard; the child is painted on the two-dimensional wood outline. On the floor in front of the photograph is an unpainted wooden outline of the small girl. (unusual idea; a bit strange)
Mark DeYoung, Sunday Evening 2008 mixed media – Two large three section pieces of aluminum are hung side by side. They have some shapes and words on the front in what appears to be random locations. (My opinion is that it should be called "Back to the Drawing Board.")
Kevin Duffy,  If You're Not Now You Never Were. swarovski crystals, acrylic, vinyl, enamel – A shield featuring an appropriation of the Church of Satan Logo – which actually incorporates Hebrew script.
Jennifer Snyder, Feather 2010 mixed media – This composition features embroidery threads on a painted wood background. (decorative piece)
Warren Green, Combines acrylic, oil, panel – Very fine gold lines are interspersed over a red background. (interesting and something you could live with for a long time.)
Billy Renkl, Proposal for an Embroidered Textile 2010 mixed – Multiple flowers on vines dance across a teal background. (absolutely gorgeous; another entry well worth making the trip to see!)
Barry Jones, For Neda 2009 video – A female voice (possibly a child) is singing "Three Little Birds" by Bob Marley while scenes of the woman shot on the streets of Iran during a demonstration against the government is flashed on the screen. (not my idea of a fun experience especially when you keep hearing this inexpert version of the song over and over while you're trying to concentrate on other parts of the art show.)
James Diehr, untitled wood, clay, copper – Two rather large orange clay figures, one queen (?) and a king (?) or otherwise members of the ruling class, sit on very high wooden chairs; each is wearing a copper hat. Very thin wire strips are connected to a hanging grey figure of a much smaller man (or boy?) who is suspended over the floor. (I can see why he couldn't name this piece; me either.)
James Diehr, untitled 2010 wood, alabaster, clay – This abstract sculpture has a small clay figure of a woman with a wood support on an alabaster base. One arm of the wood is holding a small alabaster abstract at its end; the wood base has an even larger alabaster stone at its top. (I'm just not sure about this artist. Where is his mind taking him? It appears that he's going to some areas yet to be explored by others. I suspect he'll understand that this is a compliment.)
Ken Shipley, Earline; Jethro 2010 "highly intelligent soda fired stoneware" – These two large pots or urns are well-executed in their construction, design, and beauty. The female is smaller than the male. (I had to keep asking myself, "Are these funerary urns or not?")
Brad Reagan, Follower 2009 mixed media – Two large hairy feet are protruding from the bottom of a large white sheet on which is displayed a video of a moving forest scene. (This weird piece will scare the bejeebers out of you if you aren't expecting them and happen to look down. I suspect that's the whole idea. After all, Halloween is just around the corner.)
Olen Bryant, Poplar Totem 2010 poplar wood – Five huge faces are carved on this massive totem. (As always, Olen Bryant's work is a masterpiece. Anytime, anywhere you can see his work, it's always worth the trip.)
Photo Gallery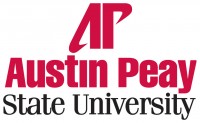 A word to parents who might send your child to study art at APSU: you are going to produce an artist of worth. These faculty members have the knowledge and skill to excite the creative energy of your son or daughter. Keep in mind that not one piece in this show came even close to some of the pure unadulterated garbage that is being produced by some of the people who display the obscene or no-talent trash that they claim is art. These artists at APSU not only teach your student the basics but show what can be accomplished through thought and intelligent hard work.
Make the Trahern Gallery shows a part of your free time. You will see art worth experiencing, thanks to people like Gregg Schlanger who create shows that challenge your intellect and reward your sense of beauty.
As my husband is fond of quoting, "Intellectual interpretation is not a prerequisite to emotional response." In other words, go to the show and judge for yourself. Especially when you are viewing modern artwork, what you see and enjoy may be the exact opposite of what appeals to me.
The Faculty Biennial ends October 30. Hours are Monday through Friday, 9:00 a.m. until 4:00 p.m. On Saturday and Sunday, you can see the show from 1:00 to 4:00 p.m.