APSU Women's Golf

Clarksville, TN – Austin Peay State University women's golf team tied for the low round of the day, Tuesday, and it allowed the Lady Govs to jump up to fourth place at the annual F&M Bank APSU Intercollegiate, played at the Clarksville Country Club.
The Lady Govs, who entered the final day in seventh place, shot a final-round 305 to go with Monday's 318 to finish at 623. Defending Ohio Valley Conference champ Murray State captured the tournament with a 604 (298-306), with Western Kentucky in second (306-205) and OVC member Jacksonville State in third (311-206). The Lady Govs outdistanced three other OVC schools (Eastern Kentucky 642/8th; Eastern Illinois 653/9th and Tennessee Tech 658/10th).
Murray State's 604 broke the tourney 36-hole record by seven shots. The Lady Govs' 623 was their best-ever score by 15 strokes (638/2000) while the 305 was 10 strokes better than their previous low, 315, also sett in 2000.
Austin Peay senior golfer Chelsea Harris finished in second place in a scorecard playoff after featuring an even-par 72 (low round of the day), Tuesday, to go with Monday's 76 for a 148 total.
Murray State's Caroline Lagerborg earned medalist honors by three strokes, shooting 72-73 for 145.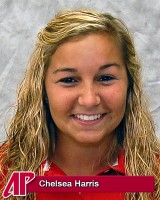 On Monday, Harris saw only one of her teammates join her with an under-80 score, that being freshman Rachel Deaton (79). Tuesday saw three other team members shoot below 80—Deaton (77), Ashley Averitt (77) and Catie Tucker (79). The latter overcame a triple bogey seven on her first hole (No. 10)—she finished her final nine holes at one-under-par.  Deaton's 156 allowed her to finish in a tie for 18th place. Beth Ann Burns was the only Lady Gov to struggle Tuesday, shooting an 87 on the day.
"We played well as a team today," APSU coach Sara Robson said. "All had some anxious moments, some tough holes, but they all hung in there and did well. Chelsea really played well today, one bogey away (on the final hole) from shooting below par.  Rachel had several birdies. Catie was five over after three holes but she really hung in there. (Ashley ) Averitt was just solid. 
"The 305 today showed these girls what they are capable of doing. They beat some OVC schools and showed they can compete with those teams."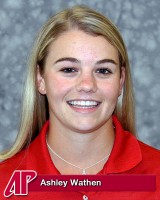 Individually, senior Ashley Wathen continued her emergence from a fall slump, backing up Monday's 77 with another 77 to finish at 154 to finish tied for 10th. Freshman Tala Mumford, who her first sub-80 score (79), Monday, backed that up with a 78 on Tuesday for a 157, to finish tied for 18th, providing the Lady Govs with four top 20 finishers.
Meanwhile, sophomore Tabitha Beard, who continues to bounce back from wrist surgery, put together a pair of 80s to finish at 160, while Holly Batey shot 91-88 to finish at 179.
"Ashley (Wathen) played like Ashley—that was good to see," Robson said. "Tala just played great. She has been here for barely two months and we have made so many changes in her swing. To see how she played in this tournament shows how hard to she has worked.
"I am so excited for Tabitha. To know the adversity she has gone through with that wrist, to see her shoot 80-80, knowing her wrist was hurting her on the last few holes, I couldn't have been happier to see her play like she did."