America To Teen Drivers: 'Keep Your Hands On The Wheel; Your Eyes On The Road; And Your Thumbs Off Your Phone's Key Pad,'
Says Clarksville Police Department

Clarksville, TN – Everyone knows that young people are the future of the Nation, but it's becoming increasingly clear that the future of young people on the Nation's highways isn't quite so rosy. This is particularly true with the growth in popularity of all manner of electronic devices that are vying for the attention of young drivers over the act of driving itself.
"Far too often, the devices are winning, and our kids are losing," says Chief Al Ansley, Clarksville Police Department.
First, the bad news: According to the U.S. Department of Transportation's National Highway Traffic Safety Administration (NHTSA), in 2008, more than 3,750 teens ages 15 through 19 died in automobile crashes of all types, and almost 660, or 18 percent, of those were killed in crashes involving some form of distracted driving.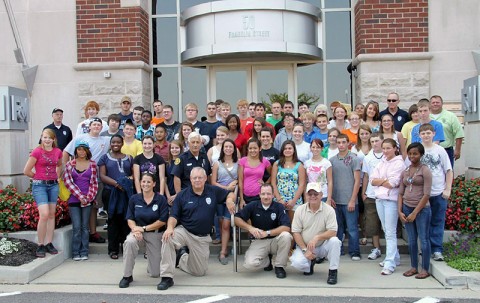 All told, 4,457 teen drivers ages 15 to 19 were involved in fatal crashes in 2008, and 16 percent (692) were distracted at the time of the crash.
And while distracted driving comes in many forms, from texting and talking on a cell phone, to eating and playing with a radio, CD player, or MP3 device, all too often the result is tragic. In 2008, that tragedy was played out nearly 800 times on America's highways—that's the number of people killed in crashes that involved a distracted teen driver.
While no one is exempt from driving distractions offered by the electronic gizmos they are bringing with them into their vehicles, teens seem to be particularly susceptible to the siren call of texting.
A study by the Pew Research Center's Internet & American Life Project reported that nearly half of the teens interviewed reported that they had been in a vehicle while the driver texted. All told, one in three teens told Pew researchers that they had texted while driving.
Now for the good news: Overall, teen driving deaths and involvement in fatal crashes have been declining over the last decade.  In 2008, according to figures from NHTSA, 15- to 20-year-old drivers involved in fatal crashes dropped 27 percent compared to 1998. Driver fatalities for this age group also dropped by 20 percent over the same 10-year period.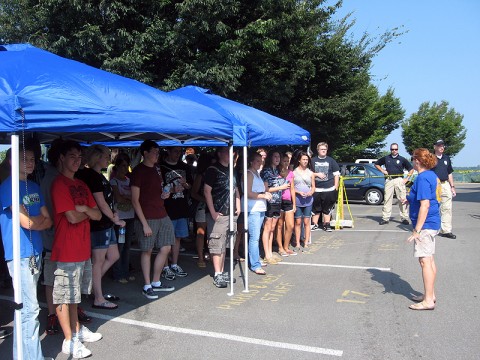 While it is impossible to pinpoint a single reason for these declines, youth driving programs like Graduated Driver Licensing are certainly having a profound and positive effect on saving young lives on the highways. Also, NHTSA anticipates that anti-texting laws and strong police enforcement may also contribute to helping save teen lives. In the first six months of 2010, no fewer than 30 States have passed legislation outlawing texting while driving.
In Clarksville, for 2010, from January 1st–October 19th, 2010, there have been 393 crashes involving drivers between 15 and 19 years of age. 147 of those were injury crashes and eight involved alcohol. The primary causes for the crashes were:  Following improperly, Inattentiveness, and Failure to Yield. There have been no fatalities in this age group for 2010, nor were there any Teen Driver fatalities in 2009.
The Clarksville Police Department continues to try and raise the awareness of Teens as well as adults to important safety issues.  One of the programs which the Police Department is involved in is the Student Traffic Awareness Training (S.T.A.T) Class. There aren't many things free nowadays, but a great class for your young drivers is available through your local PD working in conjunction with our Citizens Police Academy.
It makes them aware of the rules of the road, impaired driving, traffic hazards, and the newest traffic laws. They have an opportunity to use the "DUI goggles" and "Text While Driving" while driving a golf cart through a serpentine course. It is a one morning, four hour course. The last class of the year for 2010 is Saturday, November 20th, from 8:00am until noon Classes are Free and open to teenagers. If you are interested, please visit www.clarksvillepd.org or call Misty Mackens for more info, 931-648-0656, ext. 2131 or Kaye Jones, 931-320-5762.