APSU Men's Basketball

Nashville, TN – Austin Peay State University men's basketball team was picked to finish fourth in a preseason Ohio Valley Conference poll of league coaches and sports information directors. Junior forward Anthony Campbell also was voted preseason All-OVC.
This was announced Monday at the OVC Basketball Media Day, hosted at Municipal Auditorium, the new site for the 2010-11 OVC Basketball Tournament. Along with the unveiling of the preseason poll and All-OVC teams, OVC Commissioner Beth DeBauche introduced a number of improvements to Municipal, including a new OVC-branded basketball playing surface.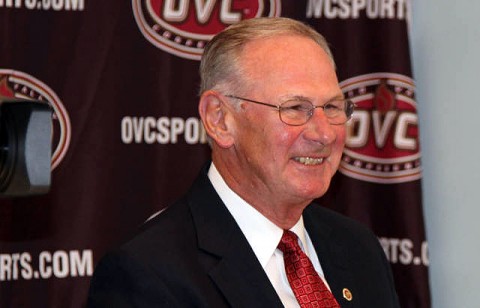 Austin Peay was picked behind preseason favorite Murray State (162 points), Morehead State (146) and Eastern Illinois (123).
On the heels of a first-round OVC tournament exit a year ago, head coach Dave Loos has been adamant about improving his team defensively for the upcoming season. With a mix of seven newcomers to joining four returning starters, Loos believes his team will have the elements to improve.
"We were picked in the middle and generally that means people don't know whether you're good or bad," Loos said. "I can understand that because we've got seven new members on our team. Our challenge is to bring that all together. We think our newcomers are certainly promising. On the other flip side, we've got six returning players that all played significant minutes."
The Govs return the team's second-leading scorer in Campbell, a second-team All-OVC pick last season who ranked fourth in the OVC in scoring (15.5 ppg) and ninth in rebounding (5.3 rpg). Campbell also is joined by junior John Fraley, who ranked second in the OVC in rebounding (7.8 rpg) and also was the Govs third-leading scorer at 9.2 ppg.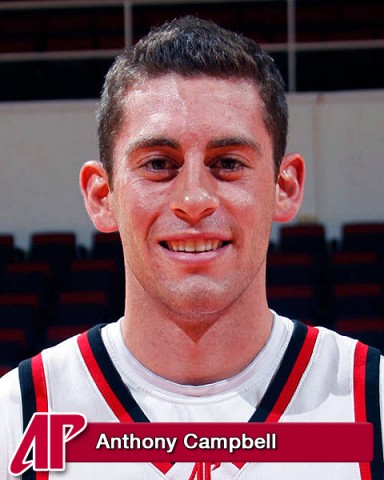 "Anthony is guy that has proven he can play, and be very successful, in this league," Loos said. "He's our go-to guy, offensively. John, in the post, has had a great summer. He looks good and he's been working hard in the weight room. He's going after the ball very well on the boards. We're excited about those guys."
With seven newcomers, Loos has tabbed 2010-11 a season of new and old. Junior transfers Melvin Baker, Josh Terry and Tyshwan Edmondson along with freshman Will Triggs (a former high school teammate of Campbell) will provide the Govs with much-needed depth and athleticism for the upcoming season.
Baker was an All-Western Junior College Athletic Association pick at Odessa (Texas) College, while Terry hails from Three Rivers Community College, where he was a National Junior College Athletic Association All-Tournament selection. Edmondson, meanwhile, hails from Hopkinsville, KY, and originally signed with St. John's before playing at Midland (Texas) College.
"We needed to improve defensively," Loos said. "I think our three junior college guys are all very athletic and pretty competitive; they'll defend well for us."
Eastern Kentucky was picked behind the Govs in fifth (92), followed by Tennessee Tech (85), Tennessee State (81), Jacksonville State (51), Southeast Missouri (41) and UT Martin (20).
Morehead State's Kenneth Faried was picked as the preseason OVC Player of the Year. The 11-player preseason All-OVC team included Campbell, Faried, Ivan Aska (Murray State), Isaiah Canaan (Murray State), Demonte Harper (Morehead State), B.J. Jenkins (Murray State), Tyler Laser (Eastern Illinois), Isacc Miles (Murray State), Kevin Murphy (Tennessee Tech), Nick Murphy (Jacksonville State) and Justin Stommes (Eastern Kentucky.